CWELCC Daycare Oakville
Alpha's Discovery Preschool And Daycare in Oakville is proud to be participating in the Canada wide early learning and child care CWELCC system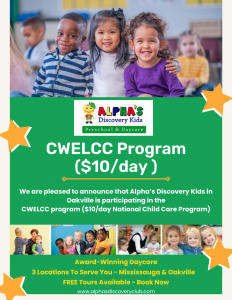 CWELCC Daycare Oakville - By Alpha's Discovery Kids Preschool And Daycare
At Alpha's Discovery Kids in Oakville, we are proud to offer high-quality, licensed child care options providing warm, consistent care in a respectful, loving, and inclusive environment. With genuine care and compassion and a focus on child development, we offer a safe and nurturing environment where kids can be kids.
We know many child care options are available to families, and we are committed to providing each child who comes through our doors with a secure, fun and inclusive space to express their individuality and creativity while receiving high-quality care from our skilled early childhood educators.
Our state-of-the-art child care centres offer both a daycare and a preschool program catering to children ages 12 months to 5 years. We remain committed to maintaining high standards at Alpha's Discovery Kids through our exceptional Four Pillars of Learning Curriculum. We invite you to schedule a tour and discover the passion and mission our early childhood educators share in helping each child reach their full potential.
Alpha's Discovery kids believe in providing every family and child with equal access to high-quality child care. We strive to make child care accessible and affordable, and our pillar of 'Giving children the best start in life' stands true in everything we do.
In order to give every child the best possible start, we are pleased to confirm that all Alpha's Discovery Kids locations participate in the Canada-Wide Early Learning & Child Care (CWELLC) program ($10/day National Child Care Program). The CWELCC is a Canada-Ontario early years and child care agreement and through this program, more families will be able to experience our award-winning, quality child care programs in a manner that is affordable, inclusive, and sustainable.
The Canada-Wide Early Learning and Child Care (CWELCC) system will:
Give families access to more affordable and high-quality child care options
Help lower child care fees for parents of eligible children under the age of six
Increase child care spaces
Support the child care workforce
Support inclusive child care
What This Means for Parents and Families
On March 28th 2022, the Provincial and Federal governments announced an agreement to fund licensed child care with a goal of reducing fees to an average of $10/day per child by 2025 under the Canada Wide Early Learning and child care program (CWELCC). The key objectives of this child care agreement program are to lower child care fees for eligible children, improve early childhood educator wages and increase access to quality child care programs.
The CWELCC program provides federal funding for child care operators to provide a 25% fee reduction retroactive to April 1, 2022, building to a 50% reduction in average parent costs by the end of calendar year 2022 and reaching an average fee of $10 a day by 2025-26 for licensed child care spaces. This is a great cost savings for families and children enrolled in the CWELCC system. With the cost of child care constantly increasing, this program helps families gain access to licensed child care centres, daycares and preschools, like Alpha's.
We anticipate a large demand for child care and children's services due to the reduced child care fees. If you are interested in child care on January 1 2023 or beyond, we suggest you secure a future spot as soon as possible. With the CWELCC discounts in place, we anticipate demand will be greater than the number of spaces we have available.
Who is eligible for CWELCC?
Parents or guardians of children under the age of six do not have to apply to participate in the CWELCC to receive child care fee reductions. All families are automatically enrolled in the program if they fulfill the eligibility criteria.
You may be eligible for reduced fees if:
You pay more than $12 per day for child care and your child:
is under the age of six or turns six years old and is enrolled in a licensed preschool, kindergarten or family age group or a licensed home child care premises, until June 30 or until their 6th birthday (whichever comes first)
You are enrolled in our child care system/program
Award-Winning CWELCC Daycare in Oakville
Alpha's Discovery Kids Oakville is pleased to be voted best daycare in Oakville and now participating in this important child care program!
For more information, please contact us and our friendly staff will be happy to answer any questions you may have. We also offer free tours of our facilities so parents can meet us!
Alpha's Discovery Kids is a licensed daycare and preschool in Oakville Ontario.
We also have a licensed daycare and preschool in Mississauga Ontario as well.
Thanks for reading about our CWELCC Daycare Oakville