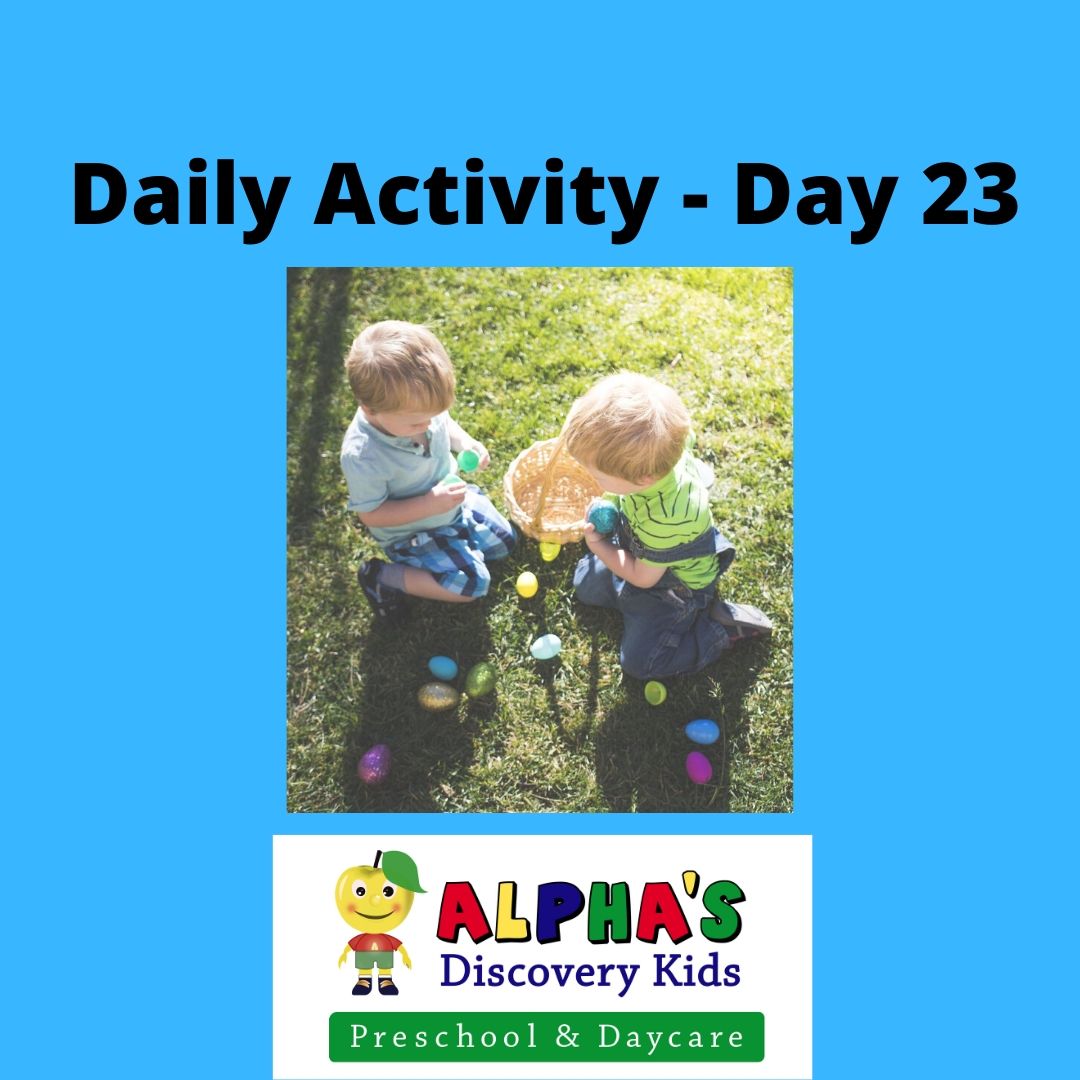 Daily Activity for Kids – Day 23 – Easter Egg Hunt Ideas
During this COVID-19 pandemic, many parents are home with their children and looking for things to do. This is a daily post to give you ideas of fun things to do. It comes from activities that we implement at our daycare centre using our Four Pillars of Learning curriculum. Since we are closed during this time, we are sharing the activity for you to implement in your own home. Enjoy!
Daily Activity for Kids – Easter Egg Hunt Ideas
Traditional Easter egg hunts with candy and chocolate eggs are fun but if you want to get creative this year, consider these unique Easter egg hunt ideas to encourage kids, adults, and everyone in between to forget about sweets and have some fun!
What to put inside the eggs? – Gather plastic fillable eggs and fill them with different items. Depending on the age of the child, you can modify what you put inside. Here's some ideas of what you can put inside the egg: confetti, stickers, puzzle pieces, tickets, small rubber ball, small bubble bottle, small toy, clues etc. Of course, you could fill a few eggs with food items such as crackers, jelly beans, chocolate/candy eggs and other small candy items. Remember that many small items are choking hazards for children under 3, so be safe and consider the age of the child when filling the eggs.
#1 Bury your plastic eggs in a garden bed or sandbox. Have the child dig using their hands or a shovel to find the eggs hidden in the dirt/sand.
#2 Float the eggs in a big sink or tub of water and children get the eggs out of the water with a utensil such as tongs. This option is great when you don't have a lot of space for a hunt.
#3 Colour hunting. Have a colour basket for each colour egg. Name a colour and kids only find eggs of that colour to put in the colour basket that matches. When they have found them, name a different colour. This option helps the hunt to last longer when the eggs are easily visible.
#4 Glow in the Dark Egg Hunt. This can be done in the evening, either inside (in a dark room) or outside after it gets dark. Turn off all lights and hide eggs with LED candle lights inside. Then hunt for them in the dark.
#5 Create a treasure map with the locations of the hidden eggs. Children will follow the map trail to find the hidden eggs in a specific order. You can put up signs and bunny prints to help them follow the trail.
This daily kids activity incorporates many learning areas based on our Four Pillars of Learning curriculum including: physical activity and language.