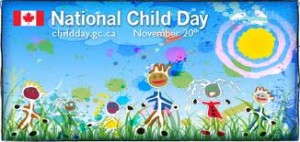 Did you know that November 20th is National Child Day? It is a day when people across the country celebrate our most precious resource – our children. This is a day to remember that our children need love, respect and nurturing to grow to their full potential. It is a day to celebrate with family and think about how parents, educators, family and friends impact the growth and development of the child. National Child Day was proclaimed as the result of United Nations Declaration
on the Rights of the Child in 1959, and the UN adoption of the Convention on the Rights of the Child (CRC) in 1989. The CRC gives children some basic rights including the right to child care, the right to play and the right to education!
At Alpha's Preschool Academy and Child Care Centre, we are celebrating with a Pajama Party and a movie!
Here's five ways you can celebrate National Child Day!
1) Attend a special event with a child
2) Share a book or story with a child
3) Cook a celebration dinner and invite family and friends to celebrate your child
4) Send a package of toys/books to children in need.
5) Get on the floor with your child and fully engage yourself in a play activity or game of your child's choice!