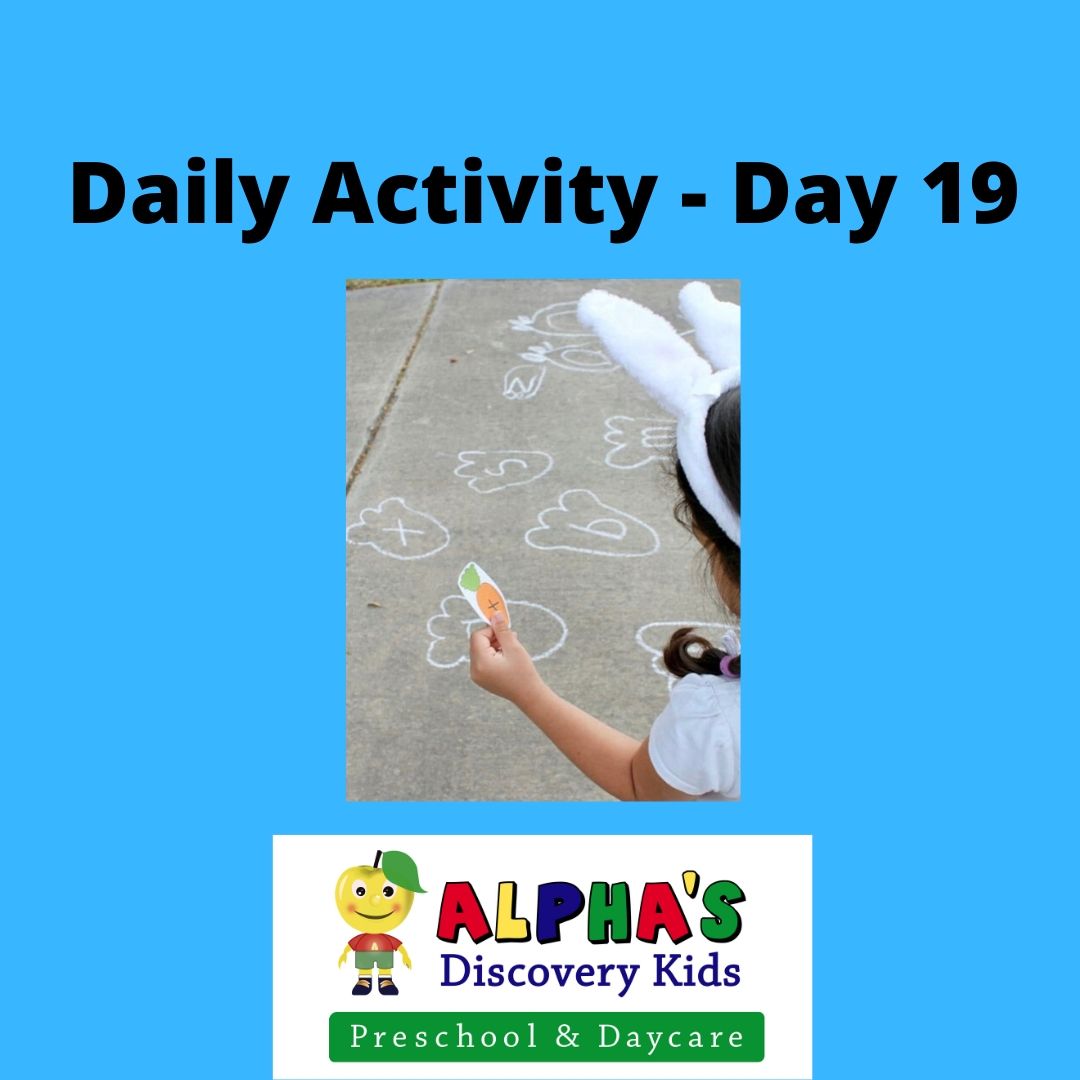 Daily Activity for Kids – Day 19 – Easter Alphabet Hopping Game
During this COVID-19 pandemic, many parents are home with their children and looking for things to do. This is a daily post to give you ideas of fun things to do. It comes from activities that we implement at our daycare centre using our Four Pillars of Learning curriculum. Since we are closed during this time, we are sharing the activity for you to implement in your own home. Enjoy!
Daily Activity for Kids – Day 18 – Easter Alphabet Hopping Game
Preschoolers have a lot of fun when it comes to Easter and Bunnies! It's fun to see their imagination spark as they anticipate the upcoming holiday. Encourage your child to learn to recognize the letters of the alphabet and letter sounds with this Easter alphabet hopping game.
Step 1 – Gather the following materials:
Sidewalk Chalk
Kids Scissors
Paper
Markers
Easter Basket or any container
Bunny Headband (optional)
Step 2 – Read any Easter or bunny themed book with your child. We recommend the classic book "Knuffle Bunny: A Cautionary Tale" by Mo Willems. You can find it online at your favourite book store.
Step 3 – Make alphabet cards using paper and markers. You will make a card for each letter of the alphabet. You can decorate your cards with pastel colours or cut them out in the shape of carrots or Easter eggs. Cut out each of the letters and place them into your basket.
Step 4 – Now it's time to head outside for the alphabet hopping game! Using the Sidewalk Chalk , have your child create a large letter of the alphabet with you on the driveway or sidewalk. You can add a little more Easter fun and make egg shapes too around the letters or bunny footprints. (For a younger child you will need to create these objects and then encourage them to color them in.)
Step 5 – Put on your bunny headband, it's time to play the alphabet hopping game! Reach into the basket full of alphabet cards and match the letter on the card, with the letter on the ground. HOP over to that letter and shout out its letter name and sound. Continue until you've found all the letters or you get tired of hopping.
Note: This game can be adapted for all ages. For younger children start with a few letters of the alphabet (5-10) and then add more as they become more confident. For older children, you can use Easter words on the cards instead of letters.
Reading with your child daily so important. Today's book recommendation is called Knuffle Bunny by Mo Willems. In the story the characters Trixie, Daddy, and Knuffle Bunny take a trip to the neighborhood laundromat. But the exciting adventure takes a dramatic turn when Trixie realizes her beloved bunny was left behind. Mo Willems uses the backdrop of black and white photos with his adorable illustrations to share this humorous storyline of when Daddy's in charge and a lovey is left behind.
This daily kids activity incorporates many learning areas based on our Four Pillars of Learning curriculum including: STEAM (art), language/literacy and physical activity.