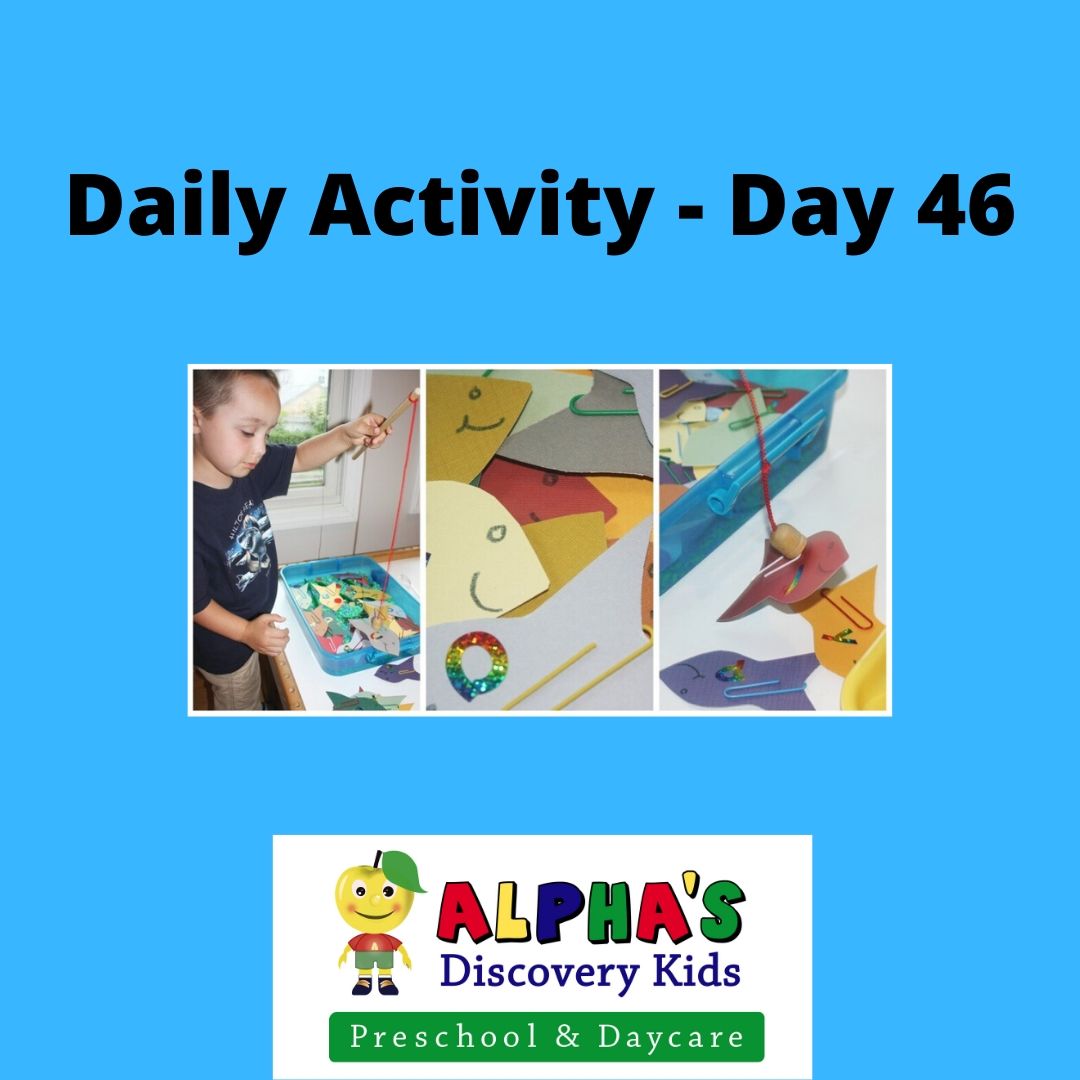 Daily Activity for Kids – Day 46 – Fish for Letters Activity
During this COVID-19 pandemic, many parents are home with their children and looking for things to do. This is a daily post to give you ideas of fun things to do. It comes from activities that we implement at our daycare centre using our Four Pillars of Learning curriculum. Since we are closed during this time, we are sharing the activity for you to implement in your own home. Enjoy!
Daily Activity for Kids – Fish for Letters Activity
Learning letters can be fun! This is a fun and interactive way to learn letter recognition. Here are the easy steps to create this game that can be used over and over again.
Step 1: Gather the following items; construction paper, markers, paper clips, scissors, yarn, a wood dowel stick and a magnet.
Step 2: Using the construction paper, cut out 10 fish shapes and draw on a mouth and eye with the markers. Label each fish with a letter of the alphabet. Start with 10 letters and increase the number of fish to add more letters when your child is able to recognize these ones. You don't have to go in order of the alphabet. You can choose to use the letters in the child's name or just random letters. If your child is able, they can also help you draw the letters on the fish. Make sure you put it on both sides of the paper.
Step 3: Attach a paper clip to the tail of the fish
Step 3: Attach the string around the magnet at one end and the stick at the other to create the fishing pole.
Step 4: Call out various letters and have your child fish them out. You can put the fish in a bowl or simply place them on a table.
You can expand this game to include words, numbers and colours by changing what is on the fish. For older children, they can complete all the step by themselves to create this fun game.
This daily kids activity incorporates many learning areas based on our Four Pillars of Learning curriculum including: language and literacy.