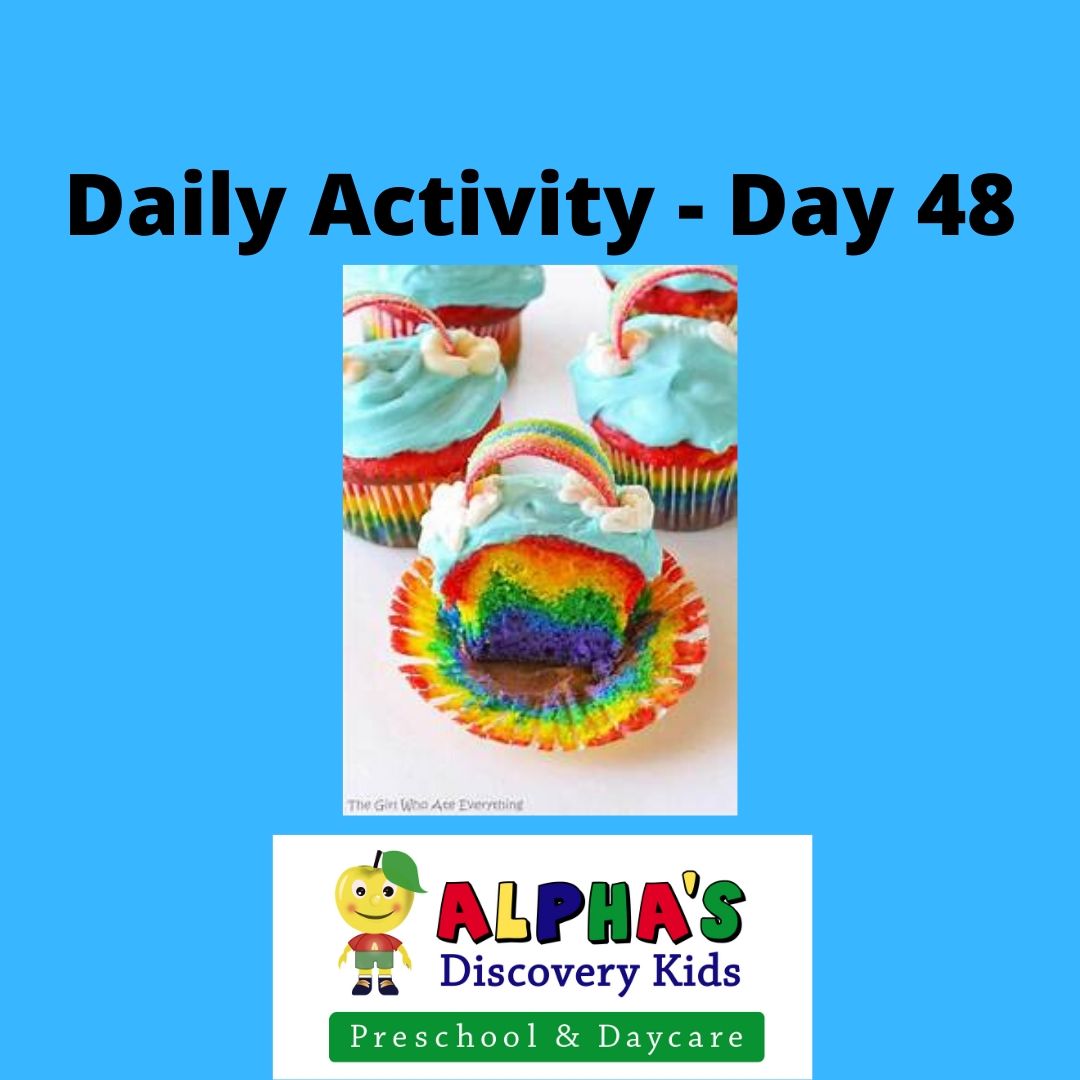 Daily Activity for Kids – Day 48 – Rainbow Cupcake Baking Activity
During this COVID-19 pandemic, many parents are home with their children and looking for things to do. This is a daily post to give you ideas of fun things to do. It comes from activities that we implement at our daycare centre using our Four Pillars of Learning curriculum. Since we are closed during this time, we are sharing the activity for you to implement in your own home. Enjoy!
Daily Activity for Kids – Rainbow Cupcake Baking Activity
Baking is a great way to introduce science and math. You can talk to your child about cause and effect, measurements, mix ingredients and hav cvcasasbe them predict results.
You don't have to be a baker to make cupcakes – they are one of the easiest things to make! This version of rainbow cupcakes is fun, easy to follow and your child will love to eat them.
All you need is packaged vanilla cake mix, eggs, oil, cupcake wrappers, frosting of your choice and food colouring. Follow the instructions on the cake mix to ensure the batter is prepared correctly.
Then portion out the batter evenly into 4 separate bowls. Add a few drops of food coloring into one bowl of batter and stir; add more food coloring, if necessary, to reach the desired shade. Repeat with the remaining colors and bowls of batter to create four bowls of different coloured batter. I like to use blue, green, yellow and red.
Using a different spoon for each color batter, spoon a small spoonful of each color into the cupcake liners, until 3/4 full. Do not mix the batter once it is in the cupcake liner. Bake in the oven according to the instructions. When it is done, let them cool before adding the frosting on top. You can add rainbow candy on top for decoration.
This daily kids activity incorporates many learning areas based on our Four Pillars of Learning curriculum including: STEAM (science, math).