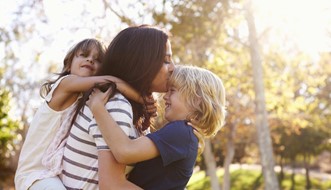 Mother's Day gifts you can give yourself
As a mom, time spent with your children doing things to grow and learn together is one of the best gifts you can give yourself for Mother's Day. During a pandemic, it may seem that our choices for activities are limited. This year, what better way to celebrate then to get outside and soak up some immune-boosting Vitamin D! Sunshine and fresh air provide so many health benefits to boost your immunity and mental health. Give yourself a gift that will create lasting memories this year. Here are 3 ideas that will leave you with a smile, tired little children and hopefully a few great photos. You don't need to go too far .These 3 activities can be done in your own backyard, neighbourhood trail or park.
YOU'RE A NATURAL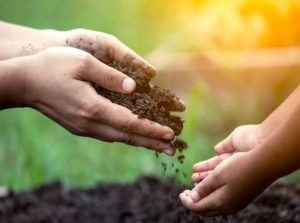 1.GET YOUR HANDS DIRTY TOGETHER AND DO SOME PLANTING
Anyone can be a be a gardener even if you do not have a green thumb or a big garden. Planting can be done in a garden, garden box or even a container you may already have at home. For instance, a jar, a bowl, or box. You can even have your child paint the flowerpot before or after. You choose the size of your project. Pick up some seeds or little plants and some soil at your local garden centre or grocery store. You and your child can get your hands dirty together and create some new life! This growing garden or plant is a gift for you all season long!
EASY TO GROW PLANTS FOR KIDS- CHECK OUT THIS LINK
YO'MAMA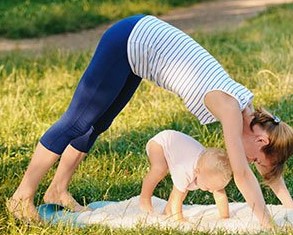 STRETCH & BREATHE TOGETHER AND DO SOME OUTDOOR MOMMY AND ME YOGA
Practicing yoga with children is one way to build a great relationship with them. Doing simple yoga poses together can help both parent and child to relax, be in the moment, and obtain physical activity at the same time. We know yoga is good for flexibility, but yoga can also help with anxiety and muscle development for both adults and children. Combining the outdoors with yoga helps as a natural mood booster. These good feelings will help you connect and bond further with your little one. It does not matter if you are an advanced yogi, a beginner, or a newbie everyone can benefit from deep breathing and stretching. Start by just taking off your shoes, face each other and taking a few breaths. This can be on a mat, towel or in the grass. You get to choose if this will be a more an active yoga or calming yoga. You can make it up as you go along getting inspiration from your outdoor surrounds but remember to be safe and careful. Enhancing your connection with the natural world and your child through movement can be a gift you give yourself.
Nature Inspired Yoga Poses: CHECK OUT THIS LINK
MOM YOU ROCK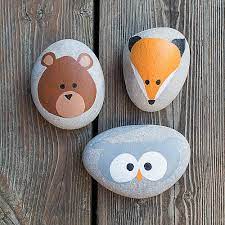 GET CREATIVE TOGETHER AND DO SOME ROCK PAINTING
Being outdoors not only stimulates your mind but also your creativity. Art projects can be messy and often require a lot of space in which to create. So, what better place to set up a rock painting activity? Even if you do not have paint brushes you can use Q-tips or your fingers. If you do not have paint, you can use nail polish, coloured water or sharpie markers. You get to choose if this is an open- ended painting experience or want to create a special design. You can of course make finding these rocks part of your Mother's Day experience by going on a little walk together or collect them in advance. Either way, your are left with a cute keep sake and minimal mess to boot. This is a gift you can give yourself.
ROCK PAINTING 101: CHECK OUT THIS LINK
Here's a link to our kindness rocks activity if you want to leave some painted rocks out in the community for other's to find.
Try one or more of these outdoor mommy and me activities and reap the benefits. No matter what you choose to do this Mother's Day,
Yo' mama , you ROCK !
HAPPY MOTHER'S DAY, You're a natural !