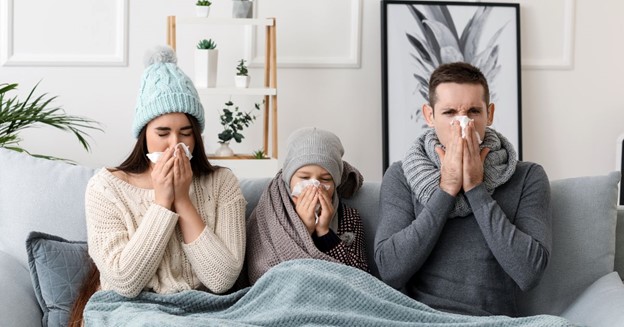 Navigating Cold and Flu Season
by Susie Beghin, RECE, Founder of Alpha's Discovery Kids
As parents, we all want our little ones to stay healthy and happy. However, it's no secret that young children can be particularly susceptible to colds and the flu. If your child attends daycare, you may have noticed that illnesses seem to make their rounds quite frequently, particularly for those in the 12-18 month age group. This may raise concerns among parents, but it's essential to understand the underlying cause.
Here at Alpha's Discovery Kids, we provide an environment where children come together to learn, play, and interact. While these interactions are incredibly valuable for their social and emotional development, they also mean that children are exposed to more germs and viruses than they would be at home.
But believe it or not, this early exposure to various illnesses can be beneficial in the long run. Our immune systems learn by doing. When children are exposed to viruses, their immune systems learn to recognize and fight them off. This exposure helps build their immunity, making them less susceptible to similar illnesses in the future.
Although no parent wants to see their child sick, young children often bounce back from illnesses more quickly than adults. Their bodies are primed to recover swiftly, which means that while they may experience more illnesses, these illnesses tend to be milder and shorter in duration. It's all part of the learning process their immune systems go through.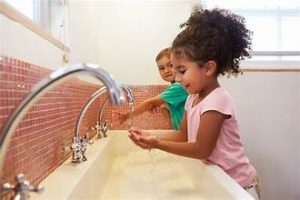 Cold and Flu Prevention
That said, as we approach cold and flu season, there are some things we do at each of our locations to help prevent the spread of illness. One of the most effective ways to minimize the spread of illnesses is through proper hygiene. Hand washing is a crucial practice that we encourage among both children and staff. Our daycare facilities are equipped with sanitation stations, and our dedicated team ensures that children wash their hands frequently throughout the day.
Nutrition also plays a significant role in building a robust immune system. We believe that nutrition plays such a large role in our children's development that nutrition (and physical activity) is one of our 4 Pillars of Learning, in addition to Language & Literacy, STEAM (Science, Technology, Engineering, Art and Math), and Mindful Awareness. We focus on providing balanced meals and snacks that support your child's health and well-being, as a well-nourished body is better equipped to fight off infections.
In addition, we maintain open lines of communication with parents. If your child isn't feeling well, we need to know. By keeping sick children at home, we can help prevent the spread of illnesses within our daycare community.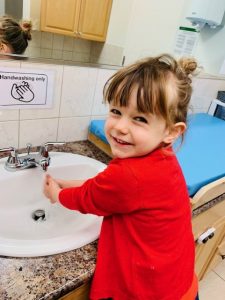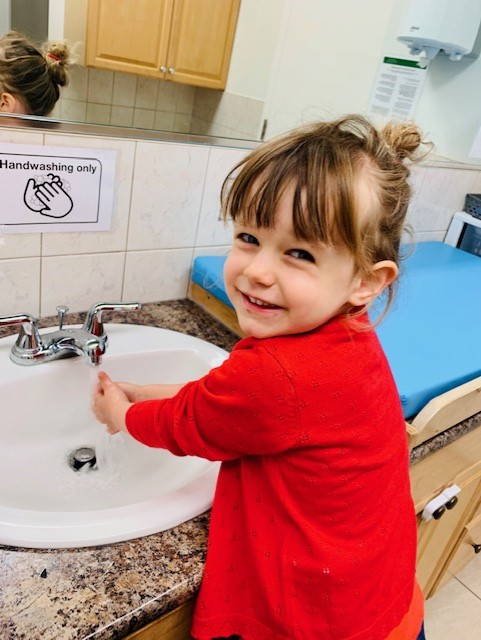 Preparing for Cold and Flu Season
As a parent, there are several steps you can take to prepare for cold and flu season and help keep your child healthy:
Teach Good Hygiene: Encourage your child to wash their hands regularly with soap and water for at least 20 seconds. Teach them to cover their mouth and nose when sneezing or coughing, ideally with a tissue or their elbow.
Maintain a Healthy Diet: Provide your child with a balanced diet rich in fruits, vegetables, and whole grains to support their immune system.
Get Plenty of Rest: Ensure your child gets enough sleep as it plays a vital role in immune system function.
Consider Probiotics: Some studies suggest that probiotics may help boost the immune system. Consult with your pediatrician or family doctor before adding any supplements to your child's diet.
Stay Informed: Keep yourself informed about current health guidelines and recommendations, especially during cold and flu season.
Get Some Vitamin C and D – Whether it is by natural method (sun/oranges) or supplements, it's important to get these vitamins.
While it's common for children to experience more illnesses in daycare settings, it's part of their natural immune system development. Alpha's Discovery Kids is committed to creating a supportive and healthy environment for your child, and we encourage parents to partner with us in supporting wellness initiatives. By teaching good hygiene practices, maintaining a healthy lifestyle, and staying informed, you can help your child stay resilient and thrive, even during cold and flu season.
For more information about topics related to the early years, check out my YouTube videos at or to book a tour, please contact us at https://www.alphasdiscoveryclub.com/contact/ .