4 Pillars Of Learning – Pillar #2 – STEAM (Science)
by Susie Beghin, RECE, Founder of Alpha's Discovery Kids
At Alpha's Discovery Kids, we aim to create a nurturing, safe space where every child feels they are in their home away from home.
And we know that the first six years of a child's life are the most formative. These are the years when young brains develop rapidly, and children are like sponges, soaking up information and modelling behaviours from those around them.
That's why providing the best learning environment possible is at the core of everything we do. We are committed to showing children how to develop the critical skills they need to succeed in life.
With each child's unique strengths taken into account, we believe in child-initiated and teacher-supported learning experiences that foster their naturally inquisitive nature and cater to their individual needs.
We do this by focusing on our 4 Pillars of Learning: Language & Literacy, STEAM (Science, Technology, Engineering, Art and Math), Physical Activity & Nutrition and Mindful Awareness.
And as you walk through each of our Alpha's Discovery Kids locations, you'll experience our award-winning 4 Pillars Of Learning system echoed in each classroom.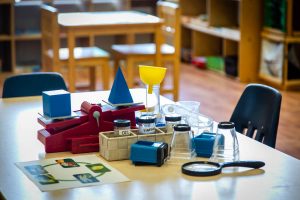 SCIENCE (The first component of STEAM)
We infuse learning in everything we do and believe that the strength of our pillars is in combining learnings from multiple pillars.
Science activities are a fan favourite at Alpha's Discovery Kids, as it often involves many things to do with nature.
Some of the fun ways we introduce and teach science include:
Nature walks – a great way of combining physical activity, mindfulness, language and science, nature walks are a fantastic way of sparking children's natural curiosity. With so many things in nature to see, children can experience a multi-sensory world of wonderment on every trip outside.
Bringing nature inside – with so many aspects of nature for children to learn, we love bringing nature inside. This can include sensory bins filled with soil, mud painting and exploring the various properties of soil (from dry to wet). Kids also enjoy planting seeds inside pots which stay in the classroom until they are ready to be transplanted outside in the spring.
Look beyond chemistry – a lot of people associate science with chemistry. And we absolutely enjoy doing some fun chemistry experiments in our classrooms. But there are so many different aspects of science to explore, including astronomy, biology and physics. We dabble in every area of science so that our children can explore the various disciplines of science.
At Alpha's Discovery Kids, we find that children, in general, are budding explorers, and science is all about exploration and discovery. So we encourage each of our children to understand that as they explore something new in their world, they're actually little scientists!
As we teach science in our classrooms, it's done in an age-appropriate manner. For our toddlers, we teach science through several activities, focusing on sensory-oriented activities. We find that toddlers love exploring sensory bins, experimenting with water, how various items float, how sand flows through different sieves and exploring a wide variety of natural materials, including pine cones, soil, leaves, etc.
As we progress through the older ages, kids explore science by creating their own solar system, making their own planets and learning where each is located. We also begin to explore sources of energy, the differences between living and nonliving things, the different types of animals and plants, and their characteristics.
By making science fun, we can tap into a child's natural desire to learn.
For more information on our 4 Pillars of Learning, or to book a tour, please contact us at https://www.alphasdiscoveryclub.com/contact/ or call us at 905-823-8257.