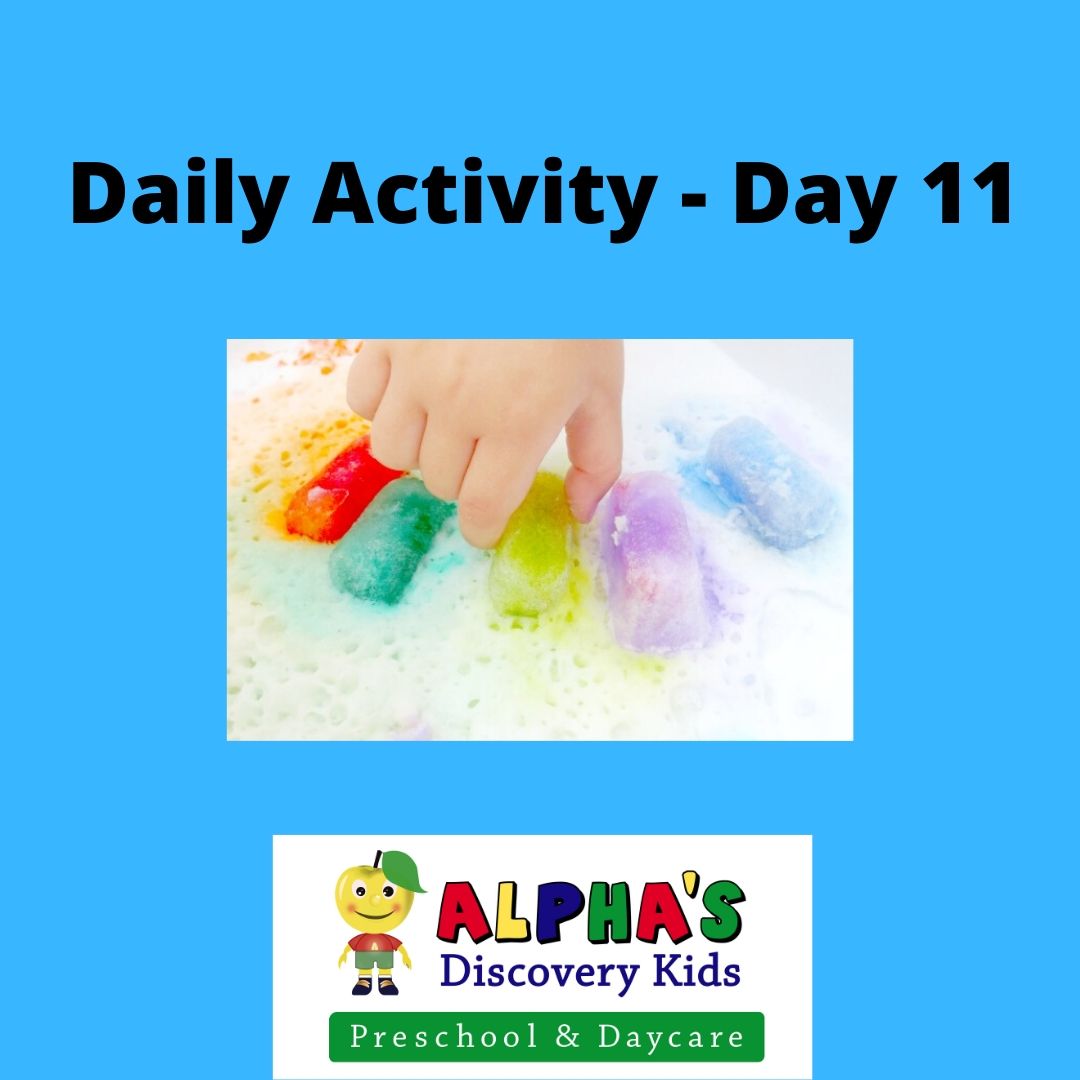 Daily Activity for Kids – Day 11 – Fizzy Ice Cubes Activity
During this COVID-19 pandemic, many parents are home with their children and looking for things to do. This is a daily post to give you ideas of fun things to do. It comes from activities that we implement at our daycare centre using our Four Pillars of Learning curriculum. Since we are closed during this time, we are sharing the activity for you to implement in your own home. Enjoy!
Today's Activity: Fizzy Ice Cubes Activity
Science is a great way to keep kids entertained. It is usually filled with cool things happening, bright colours and sometimes unpredictable outcomes. Science education activities provide children with opportunities to develop and practice many different skills and attributes. These include communication skills, collaborative skills, team working and perseverance, as well as analytical, reasoning and problem-solving skills. This is an interesting experiment involving baking soda and vinegar with an icy twist!
Step 1: Gather the following ingredients
1 cup of baking soda
1 tsp of clear gelatin
¼ cup of water
Food colouring
Ice cube tray
Vinegar
Step 2: Mix together the baking soda and gelatin
Step 3: Add of few drops of food colouring to the water and pour into the baking soda mixture. Mix well. You can separate the mixture into four equal parts and have four different colours or make extra batches with new colours.
Step 4: Separate the mixture evenly in the ice cube trays. Freeze overnight
Step 5: Remove the cubes from the tray and put them in a shallow dish. Let your child pour some vinegar over the ice cubes. Watch it begin to fizz. You can use a small measuring cup, a turkey baster or eyedropper to pour the vinegar to develop fine motor skills.
Here's some questions to ask. What do you think will happen when we pour the vinegar over this? What do you think will happen when the colours begin to mix together? Do you think one colour will melt faster than the others?
This daily kids activity incorporates many learning areas based on our Four Pillars of Learning curriculum including: STEAM (Science) and language skills.