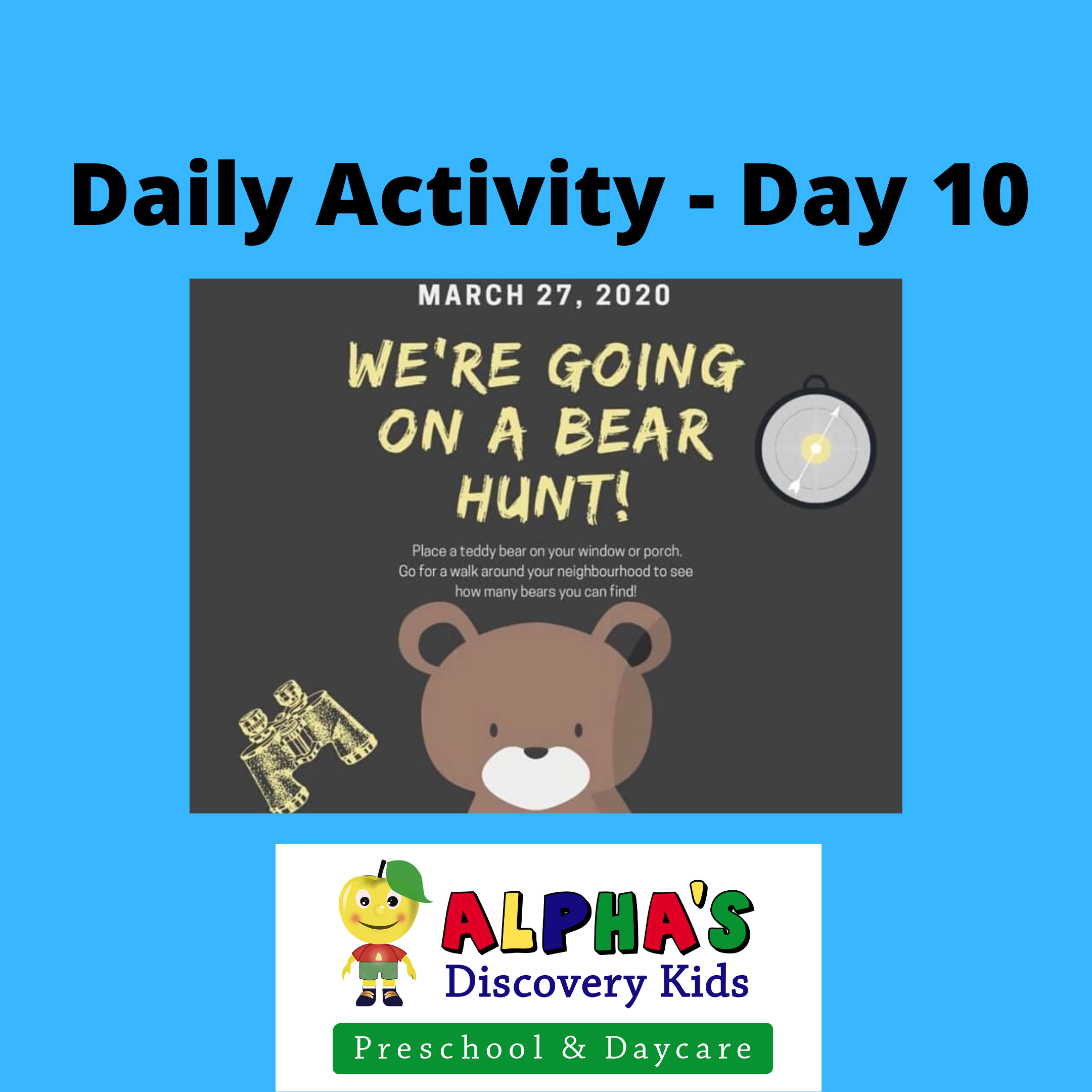 Daily Activity for Kids – Day 10 – Going on a Bear Hunt Activity
During this COVID-19 pandemic, many parents are home with their children and looking for things to do. This is a daily post to give you ideas of fun things to do. It comes from activities that we implement at our daycare centre using our Four Pillars of Learning curriculum. Since we are closed during this time, we are sharing the activity for you to implement in your own home. Enjoy!
Today's Activity: Going on a Bear Hunt Activity
Many communities have banded together during this pandemic with "social distancing" group activities for kids. Some of these activities included posting shamrocks in the windows on St. Patrick's Day and walking around the neighbourhood to find them. Today, I came across another one of these activities on a few social media parent groups and I want to share it as a simple activity that you can do today. At our daycare centre, one of the children's favourite songs is "Going on a Bear Hunt". When we put the music on, the children gather around and pretend to go on a hunt. They LOVE it! For today's activity, you will go on a bear hunt with your child and possibly your whole neighbourhood!
Step 1: Find a teddy bear and put it in the window or front porch of your home so that is visible to people walking by.
Step 2: Get a copy of the "going on a bear hunt" song and download it to your phone. You can find it on Youtube.
Step 3: Play the song while you go on a walk in your neighbourhood. See if you can find any bears in the windows of your neighbourhood homes. Many community parent groups have posted this so you may see some families participating. Also, you can try to organize it on your own street if you have a way to contact them. Perhaps you can post this activity on your neighbourhood social media group to encourage more awareness and participation.
Step 4: Take pictures of your bear and any other bears you find along the walk.
Enjoy all the physical activity and sense of community belonging that comes with this activity!
This daily kids activity incorporates many learning areas based on our Four Pillars of Learning curriculum including: Physical activity, social and language skills.