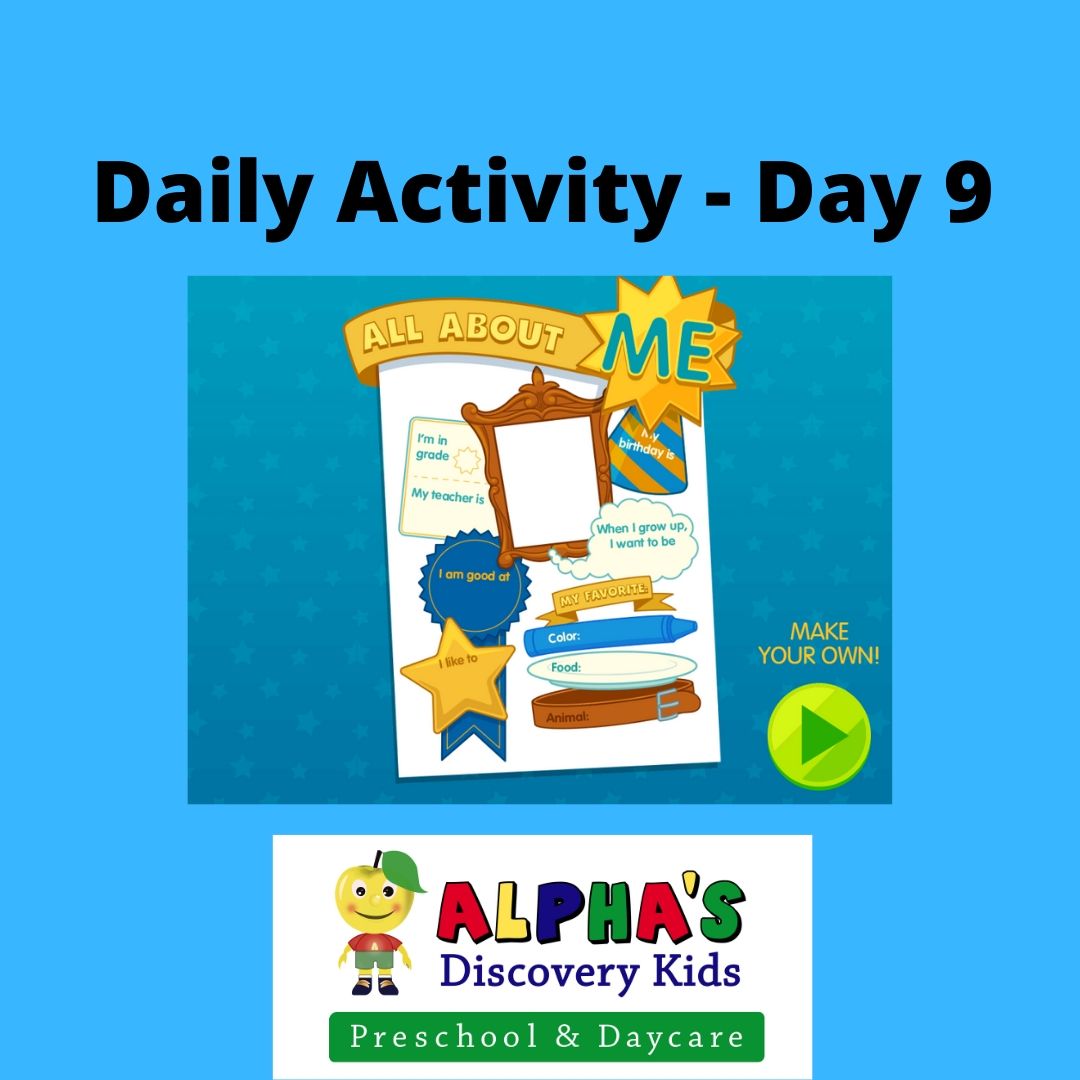 Daily Activity for Kids – Day 9 – All About Me Activity
During this COVID-19 pandemic, many parents are home with their children and looking for things to do. This is a daily post to give you ideas of fun things to do. It comes from activities that we implement at our daycare centre using our Four Pillars of Learning curriculum. Since we are closed during this time, we are sharing the activity for you to implement in your own home. Enjoy!
Today's Activity: All About Me Activity
As parents, we know that you are concerned about limiting the use of technology for your kids or "screen time". We believe that technology can be a great thing for families, if used wisely. We have found a great website which allows children to partake in fun activities while learning things like, math, numbers, strategy or skill. Our challenge activity today is to create your all about me page. Here are the steps below.
Step 1: Open up the website, www.abcya.com and click on the Pre-k option for children under 4. (there are options from Pre-k up to Grade 6) Once there, scroll down to the Preschool word games, you will see the "All About Me" option. Choose that one.
Step 2: Help your child to walk through each answer and don't forget to let them draw themselves. (it was our favourite part!)
Step 3: When it is complete, save it to your computer and share with us either on our Facebook @alphaspreschool or our Instagram @Alphaskids pages. We can't wait to learn all about you.
This website also offers other great games for children. Magic Molly's Adventure is a great game where children get to choose the destination of a unicorn who is trying to find a rainbow. Alphabet Bubble is a great game to help children recognize letters. Once you have completed each game, it will tell the children what words start with the letter. You can even make your own pizza. It made us soooo hungry! Technology can be a great and wonderful tool. I hope you have as much fun as we did with this fun and educational website.
This daily kids activity incorporates many learning areas based on our Four Pillars of Learning curriculum including: STEAM (technology) and language and literacy.