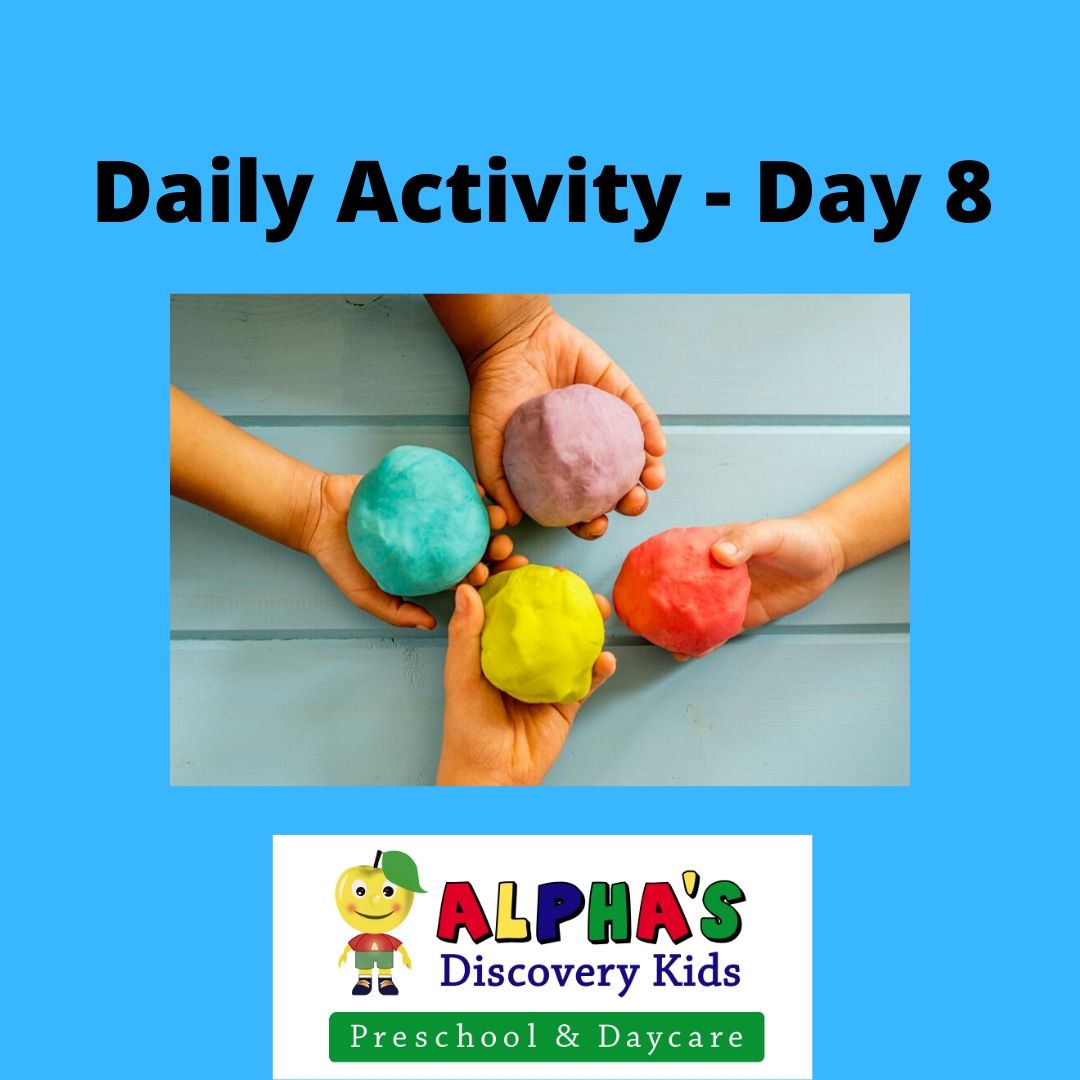 Daily Activity for Kids – Day 8 – Homemade Playdough
During this COVID-19 pandemic, many parents are home with their children and looking for things to do. This is a daily post to give you ideas of fun things to do. It comes from activities that we implement at our daycare centre using our Four Pillars of Learning curriculum. Since we are closed during this time, we are sharing the activity for you to implement in your own home. Enjoy!
Today's Activity: Homemade Playdough
Working with play dough is a great stress reliever activity for both adults and children. Playdough is such a great way to let you imagination run wild. You can build shapes, faces and other various items. There are so many benefits to working with playdough as it enhances fine motor skills, improves pre-writing skills, helps develop hand eye co-ordination , creativity and imagination and has a calming effect. Instead of buying play dough, we recommend making your own as we do in all our centres – all ingredients are readily available at a grocery store. This is the recipe that we use.
Step 1: You will need to collect the following items
1 cup of flour
½ cup of table salt
2 tbsp of cream of tartar
1 tbsp of oil
1 cup of boiling water
Food colouring
Step 2: In a bowl, combine the flour, salt and cream of tartar. Mix well. Add in the oil. Have children participate by measuring and pouring the ingredients. This is a great opportunity to develop math skills and coordination skills.
Step 3: Mix a few drops of food colouring into the boiling water and add to the bowl. You can also mix colours to create new colours.
Step 4: Mix everything together very well and massage with your hands until it is no longer sticky.
Step 5: Portion it out in small batches to use. We recommend both adults and children work with the play dough side by side. Gather all the tools you will use to manipulate the play dough. Here's some suggestions: rollers, cookie cutters, plastic knives, spoons, popsicle sticks, and things that can make imprints in the dough such as animals, dinosaurs, cars etc. Have fun with it!
The great thing about playdough is that it lasts. Once you are finished playing with it you can wrap it in plastic and seal it in an airtight container and it can last for up to 6 months.
This daily kids activity incorporates many learning areas based on our Four Pillars of Learning curriculum including: STEAM (science, math) and physical activity.