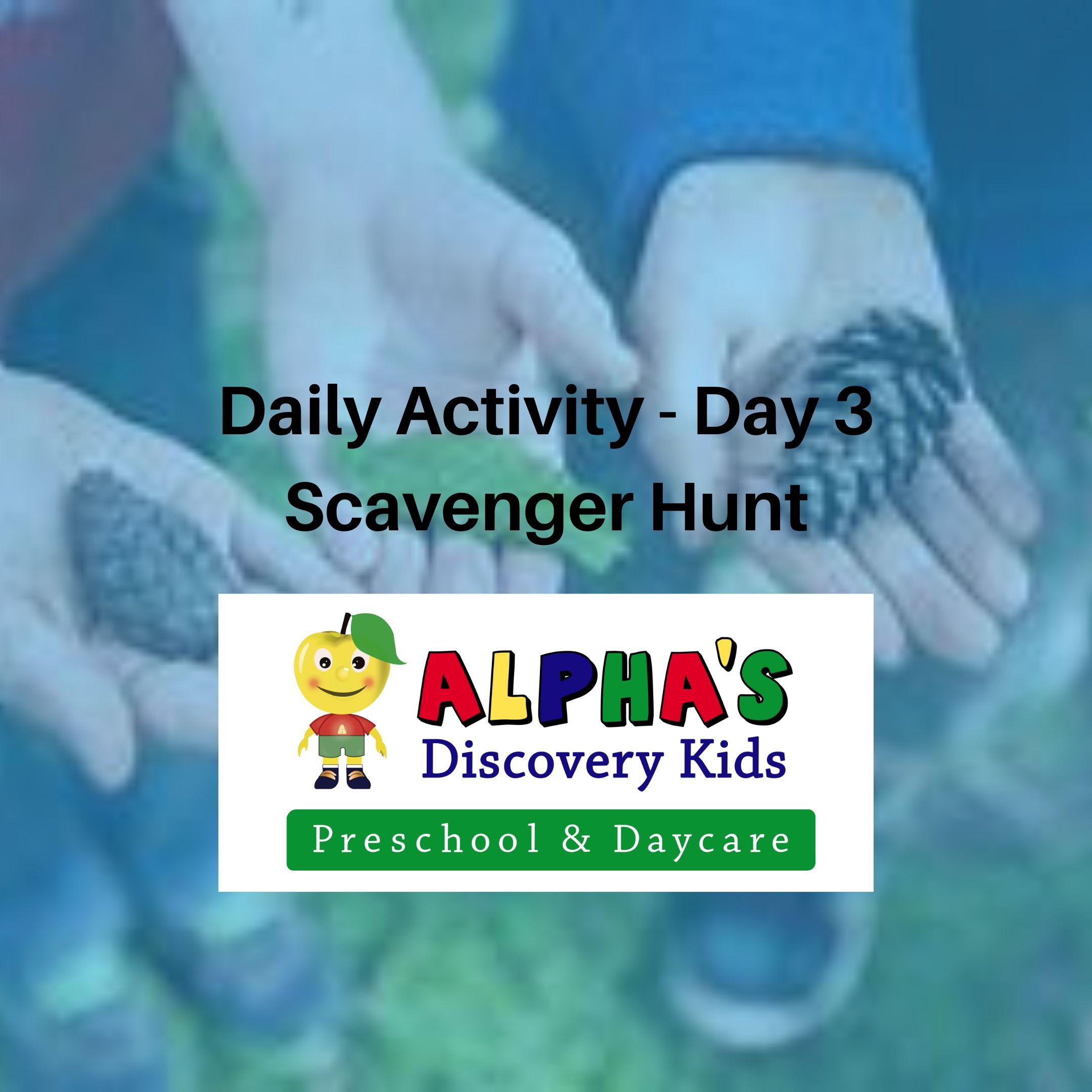 Daily Activity for Kids – Day 3 – Scavenger Hunt
During this COVID-19 pandemic, many parents are home with their children and looking for things to do. This is a daily post to give you ideas of fun things to do. It comes from activities that we implement at our daycare centre using our Four Pillars of Learning curriculum. Since we are closed during this time, we are sharing the activity for you to implement in your own home. Enjoy!
Today's Activity: Scavenger Hunt
With spring weather approaching, why not get outside for some fun, exercise and a break from the indoors and what better way to do that then with a scavenger hunt.
Step 1: Prepare your scavenger hunt list. It can include the following items.
Something colourful (you can also name a certain favourite colour)
A pine cone
An acorn
Something smooth
Something rough
Two kinds of leaves
Two kinds of sticks
Something bumpy
A flat rock
Something fuzzy
Something pretty
A chewed leaf
A flower or petal
A piece of litter
Something you think is a treasure
Step 2: Plan where you will go. Will it be a local park, a hiking trail, or even your own backyard? You can decide to collect each item and bring it home or you can take pictures and make a collage of your journey to remember it.
Step 3: You can separate into teams to make it a fun challenge (make it competitive) or work together as a family to complete the list together.
Step 4: Once you have all the items (either collected or pictures), take them back home and create a fun story with the family using the items you have. E.g. There once was a beautiful (insert your something colourful) who became friends with a pine cone named (name your pine cone) and then keep going until you reach the end of your story. This builds language and literacy skills.
Step 5: Make a collage picture of all the items you collected. You can glue the actual items on the paper or pictures of them to your collage picture. This will be a lovely keepsake.
This is something that you can do daily or weekly. You can change your list each time. Every child loves a scavenger hunt!
This daily kids activity incorporates many learning areas based on our Four Pillars of Learning curriculum including: language and literacy, science (nature), art and physical activity.