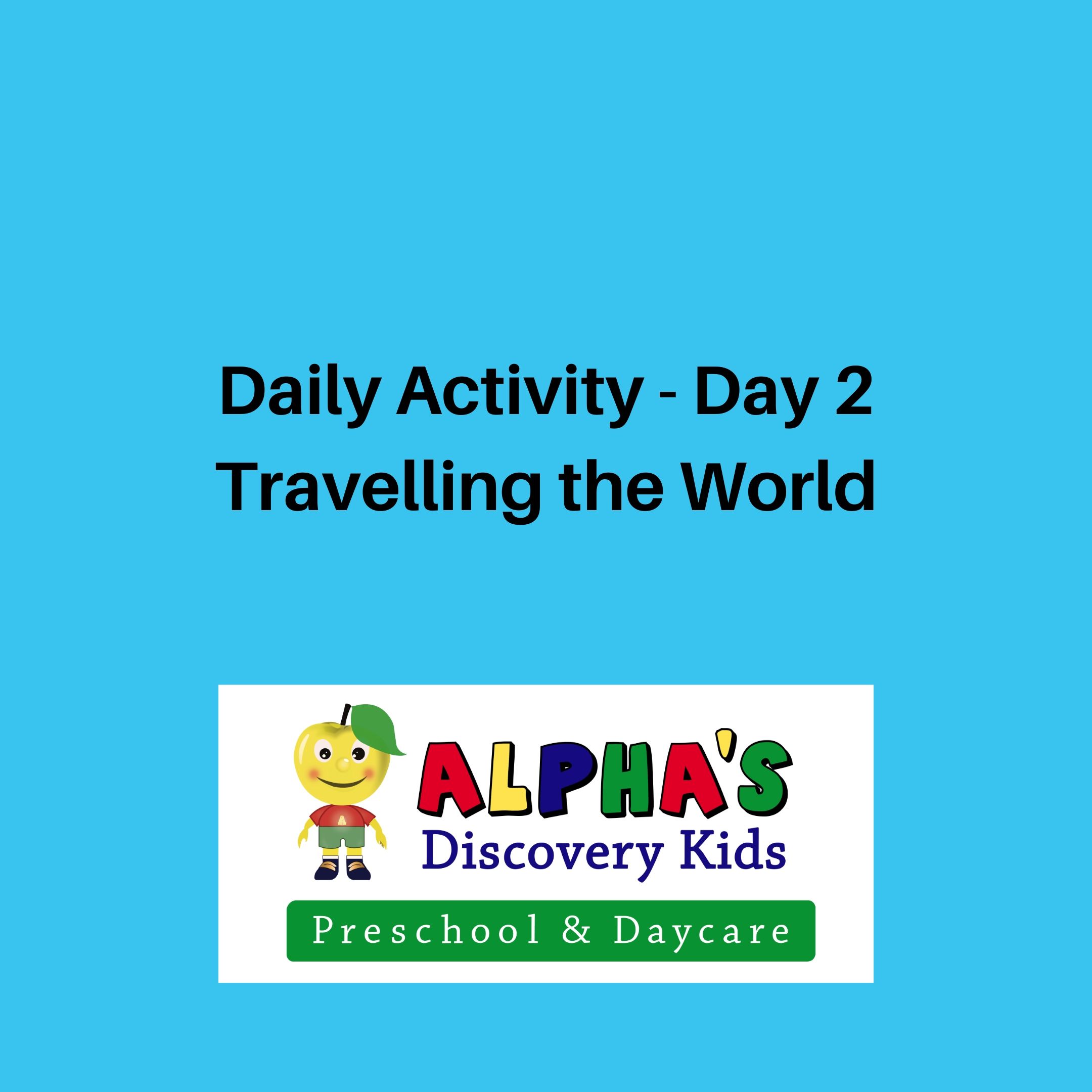 Daily Kids Activity – Day 2 – Travelling the World
During this COVID-19 pandemic, many parents are home with their children and looking for things to do. This is a daily post to give you ideas of fun things to do. It comes from activities that we implement at our daycare centre using our Four Pillars of Learning curriculum. Since we are closed during this time, we are sharing the activity for you to implement in your own home. Enjoy!
Today's Kids Activity-Travelling the world
Children and even adults of all ages love to imagine and pretend. Where would you go if money wasn't an option? What would you see? What experiences would you have? In today's activity, you get to travel anywhere in the world from the comfort of your own home!
Step 1: Grab a computer, tablet or phone and sit down with your child to visit these sites together for great travel ideas. These kid-friendly websites are sure to give you some ideas for places you would like to visit.
www.kids.nationalgeographic.com
https://outdoorfamiliesonline.com/
https://www.familyadventureproject.org/
Step 2: Have a discussion with your child about the places you see online and have your child pick a place they want to visit. This is where you will go today.
Step 3: Find a space in your home to build a fort. Use sheets, blankets, furniture, pillows, anything that you have accessible to make your fort resemble where you are headed. Think about what you will need in your new place based on climate, such as blankets if it is a cold place.
Step 4: While sitting in your fort, use the laptop/tablet/phone to find out information about the place you are visiting. Talk about the animals who live there, food they eat, local temperatures etc. The websites listed above are a great start. You can even find videos that will give you visuals of the place you are visiting and have them playing in the background.
Step 5: Extend the learning by adding on more activities throughout the day. You could make a local food from the area (e.g. Pizza for Italy, Tacos for Mexico etc.) Take the music from the place you have visited and create a music video including all the family. Make it fun and get moving. Grab some paint or other creative materials and make a picture of something you saw on your visit. It could be the food, the village, the ocean, etc.
This is something that you can do daily. Plan a list of home vacations you will take over the next few days. This is a fun and creative way to educate your children and have fun in the process. Let your imagination go wild! Your kids will love it!
This daily kids activity incorporates many learning areas based on our Four Pillars of Learning curriculum including: STEAM science (cooking), technology (computers), engineering (building), art and language.