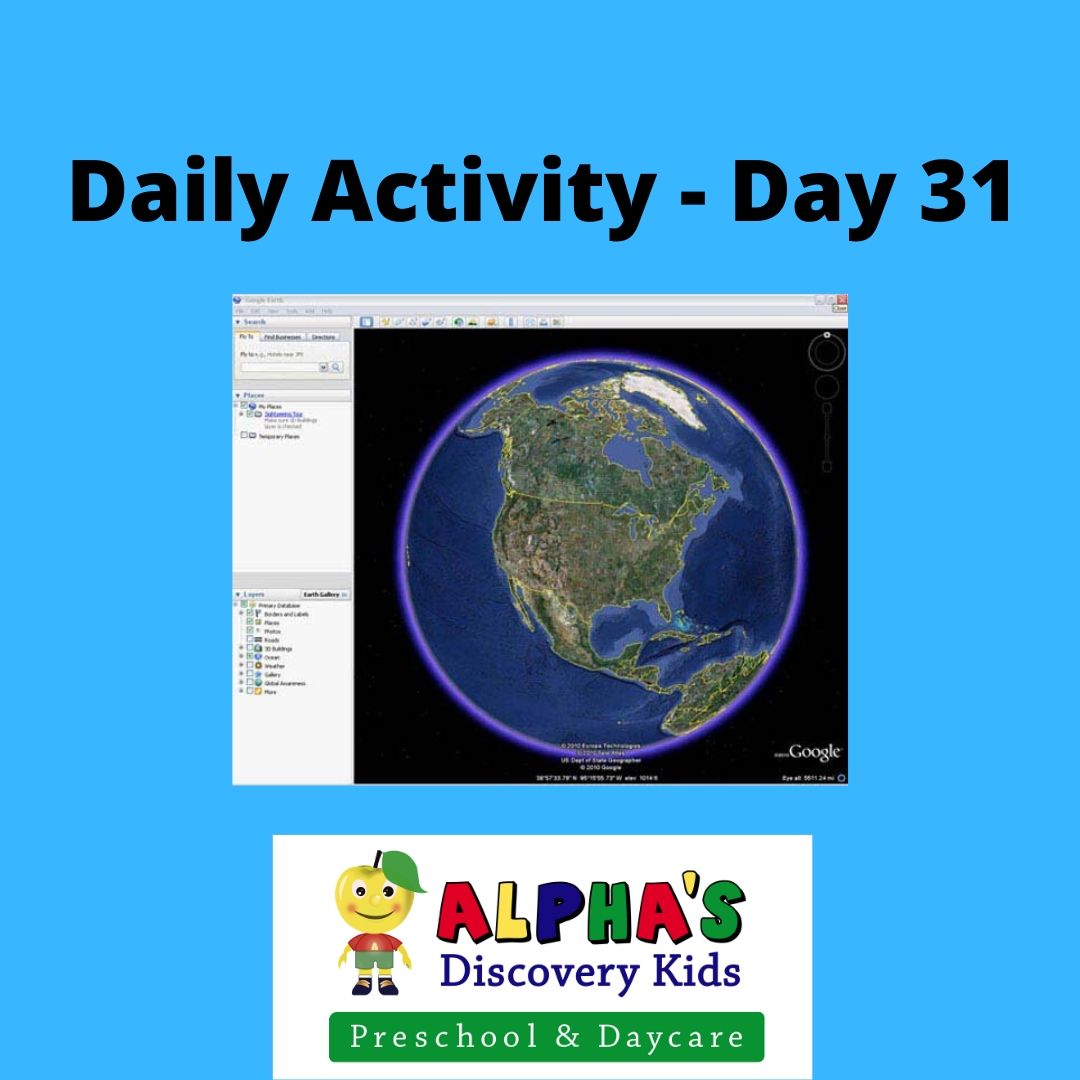 Daily Activity for Kids – Day 31 – Google Earth Activity
During this COVID-19 pandemic, many parents are home with their children and looking for things to do. This is a daily post to give you ideas of fun things to do. It comes from activities that we implement at our daycare centre using our Four Pillars of Learning curriculum. Since we are closed during this time, we are sharing the activity for you to implement in your own home. Enjoy!
Daily Activity for Kids – Google Earth Activity
For Earth Day 2020, why not explore our earth in 3D using an amazing technology app called Google Earth. You may have used Google Earth to find your home but there is so much more you can do with it. There are so many interesting educational things kids can learn on Google Earth.
Step 1: Download the Google Earth App to your device.
Step 2: Start by finding your home/exploring your neighbourhood and then expand to visit the major world landmarks and even fly a plane through the grand canyon. For older children, have them make a list of places they would like to see and then see if you can find them all.
Step 3: You can also use Google Earth to find the planets in the night sky, explore the constellations and visit the surface of the moon and even Mars!
There's so much to explore on earth and the Google Earth app has so many features.
For more details about all these ways to explore Google Earth and more, visit this website: https://www.brightpips.com/here-are-15-amazing-things-your-kid-can-discover-with-google-earth/
This daily kids activity incorporates many learning areas based on our Four Pillars of Learning curriculum including: STEAM (science, technology, math).