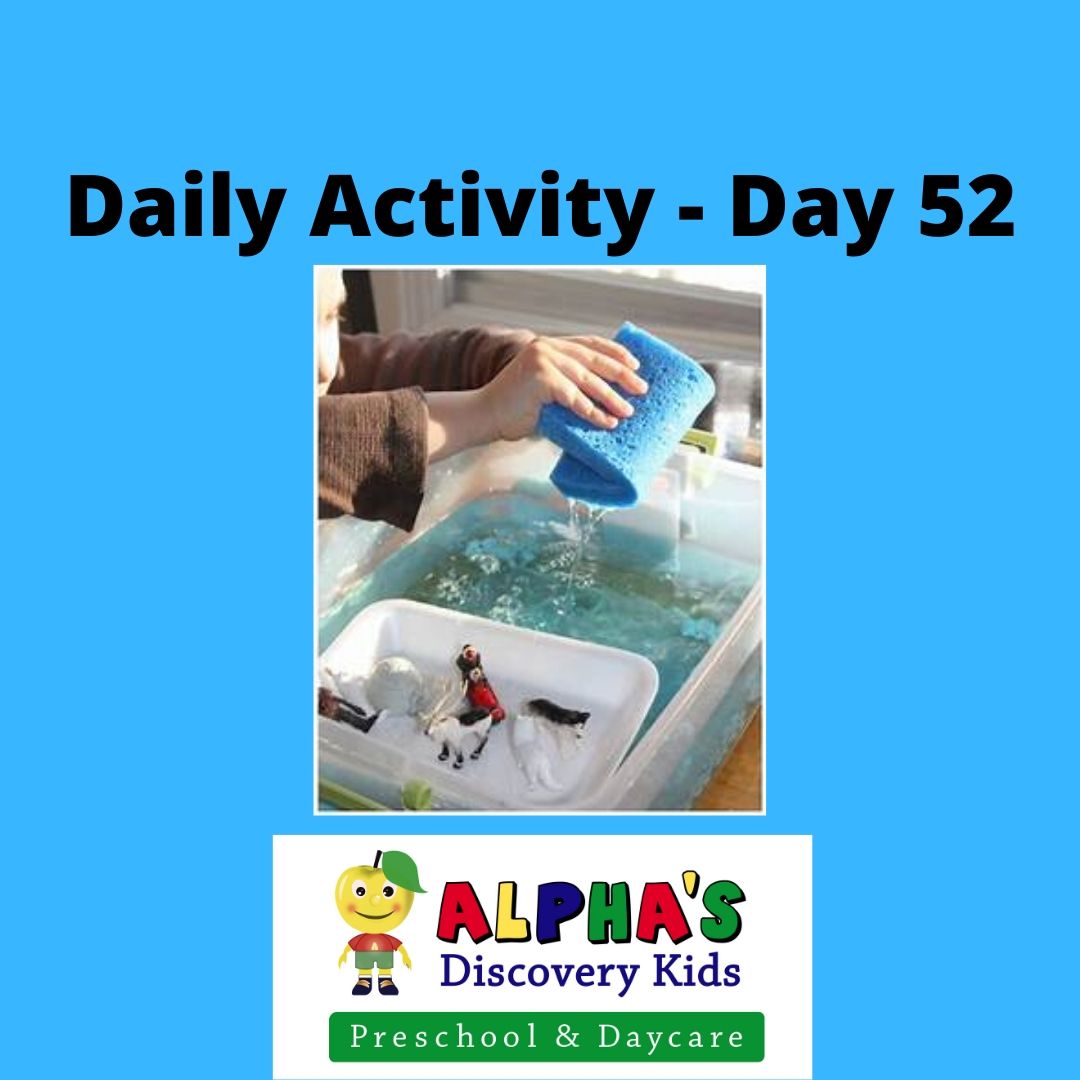 Daily Activity for Kids – Day 52 – Water Play Activity
During this COVID-19 pandemic, many parents are home with their children and looking for things to do. This is a daily post to give you ideas of fun things to do. It comes from activities that we implement at our daycare centre using our Four Pillars of Learning curriculum. Since we are closed during this time, we are sharing the activity for you to implement in your own home. Enjoy!
Daily Activity for Kids – Water Play Activity
If you have a little one under 5 years old at home, then you've experienced what it's like to try to keep up with an energetic toddler or preschooler. But did you know that kids this age need three hours of physical activity a day?
Children between 2-4 years old don't only need a lot of movement, they also need a lot of variety of movement. So while it's essential to make time for unstructured, active playtime, it's also important to have access to plenty of fun, simple activities that you know will help them get active and develop skills in a variety of ways.
With the summer heat this week, it's a great time to engage in water play outdoors. Water play keeps them cool in the heat and also keeps them active – and it's FUN!
Here's some options for easy water play that doesn't involve a swimming pool. It may be awhile before the pools and splash pads are open.
Car wash: Gather up lots of sponges, provide a tub of soapy water and wash the bikes and riding toys.
Little people washing station: Gather small face towels and a bucket of soapy water and wash all the baby dolls or action figures.
Wall painting: Gather sponges and brushes and have your kids throw their sponges on a wall or on a cement surface to make designs. Sponges and brushes can also be used to "paint" walls with water.
Setup a water sensory table: All you need is a big bin of water and add their favourite toys as well as pail, shovels, strainers and things they can use to scoop and pour.
Sponge toss: Gather a sponge and a bucket of water and toss the sponge back and forth to each other.
Depending on your child, you may want to put them in a swimsuit or clothes you don't mind getting wet. And don't forget the sunscreen!
This daily kids activity incorporates many learning areas based on our Four Pillars of Learning curriculum including: physical activity.