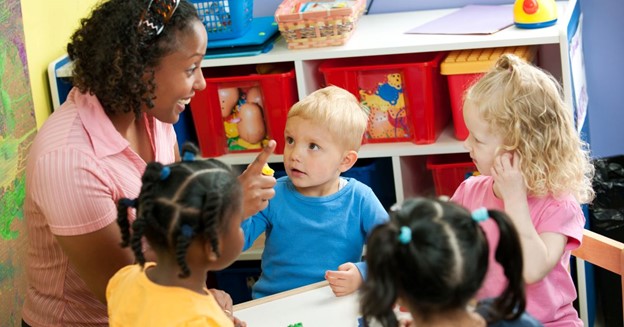 The Importance of Socialization for Young Children: Nurturing Minds and Hearts
by Susie Beghin, RECE, Founder of Alpha's Discovery Kids
At Alpha's Discovery Kids, we are passionate about providing children with an environment where they can learn, grow, and thrive. And we deeply understand the paramount importance of socialization in a child's early years. It's not merely about play; it's a foundational element of a child's development that shapes their future in profound ways. We recognize that children are inherently social beings, wired to connect, learn, and grow through interaction with their peers and caregivers.
As a parent myself, I understand how crucial socialization is to nurturing empathy, honing communication skills and learning the art of human interaction. In the ever-evolving landscape of early childhood education, we understand that the first six years of a child's life are the most formative. It's during this period that a child's brain is in a state of rapid development, absorbing knowledge, experiences, and social cues like a sponge. As Early Childhood Educators, we are not merely caretakers; we are shapers of young minds and hearts.
To us, socialization is not a byproduct of our curriculum but an integral part of it. Alpha's Discovery Kids understands that every child is unique, and their social needs vary. Some children may thrive in a bustling social environment, while others may need more gradual and individualized socialization experiences. Our approach is flexible, recognizing and respecting these differences, allowing each child to bloom at their own pace.

The effects of COVID-19 on socialization
The COVID-19 pandemic presented unprecedented challenges for children's socialization. Social distancing measures, mask mandates, and lockdowns disrupted the traditional avenues for social interaction. Many children missed out on the crucial social experiences that daycare and preschool settings offer. Here are some of the effects we observed during this challenging period:
Insecure Attachment Issues: When young children are unable to establish secure attachments due to limited social interaction, it can have devastating consequences for their emotional well-being. Secure attachments form the basis of healthy relationships later in life.
Excessive Crying: Inconsolable crying can be a sign of distress caused by a lack of socialization. Children need the comforting presence of caregivers and peers to feel safe and secure.
Language Delays: Language development relies heavily on social interaction. With masks obscuring our facial expressions and limiting verbal communication, we noticed that language delays became more prevalent among young children.
The Importance of Early Socialization
The longer children are isolated from social experiences, the harder it can be to reintegrate them into social settings like daycare. A 3-year-old who has been isolated for an extended period may face more significant challenges than a 12-month-old in adjusting to group environments. Early socialization sets the stage for a child's future interactions and relationships, making it a critical aspect of their development.
Alpha's Discovery Kids has observed significant advantages associated with socialization, and these benefits extend beyond full-time care. Even part-time attendance provides numerous advantages. Here are some of the benefits of socializing at daycare:
Emotional Development: Children learn to identify and manage their emotions through interactions with peers and caregivers. They develop empathy, conflict resolution skills, and a sense of belonging.
Cognitive Growth: Social play fosters cognitive development. Children engage in problem-solving, creativity, and critical thinking as they interact with others.
Language Skills: Daily interactions with peers and teachers help improve language skills. Children learn to communicate effectively, expanding their vocabulary and language fluency.
Independence: Socialization encourages independence. Children learn to make choices, solve problems, and take initiative in a supportive environment.
At Alpha's Discovery Kids, every child in our care is treated as an extended part of our own families. We provide a nurturing and stimulating environment where socialization is a central focus. Our dedicated teachers, who are always patient, caring, and committed to making each child's experience the best it can be, facilitate social interactions that promote growth and development.
We believe that socialization is not a luxury but a necessity for young children's development. The pandemic underscored its significance, reminding us that socialization is vital for emotional, cognitive, and social growth. At Alpha's Discovery Kids, we remain dedicated to providing a safe and enriching environment where children can thrive through socialization, guided by our Four Pillars of Learning. We are committed to empowering the leaders and innovators of tomorrow, one social interaction at a time.
For more information about how to use the Four Pillars of Learning system, check out Susie's book, Learn To Play: The Four Pillars Learning System on Amazon.
For more information on early childhood topics, check out my YouTube series, or to book a tour, please contact us.