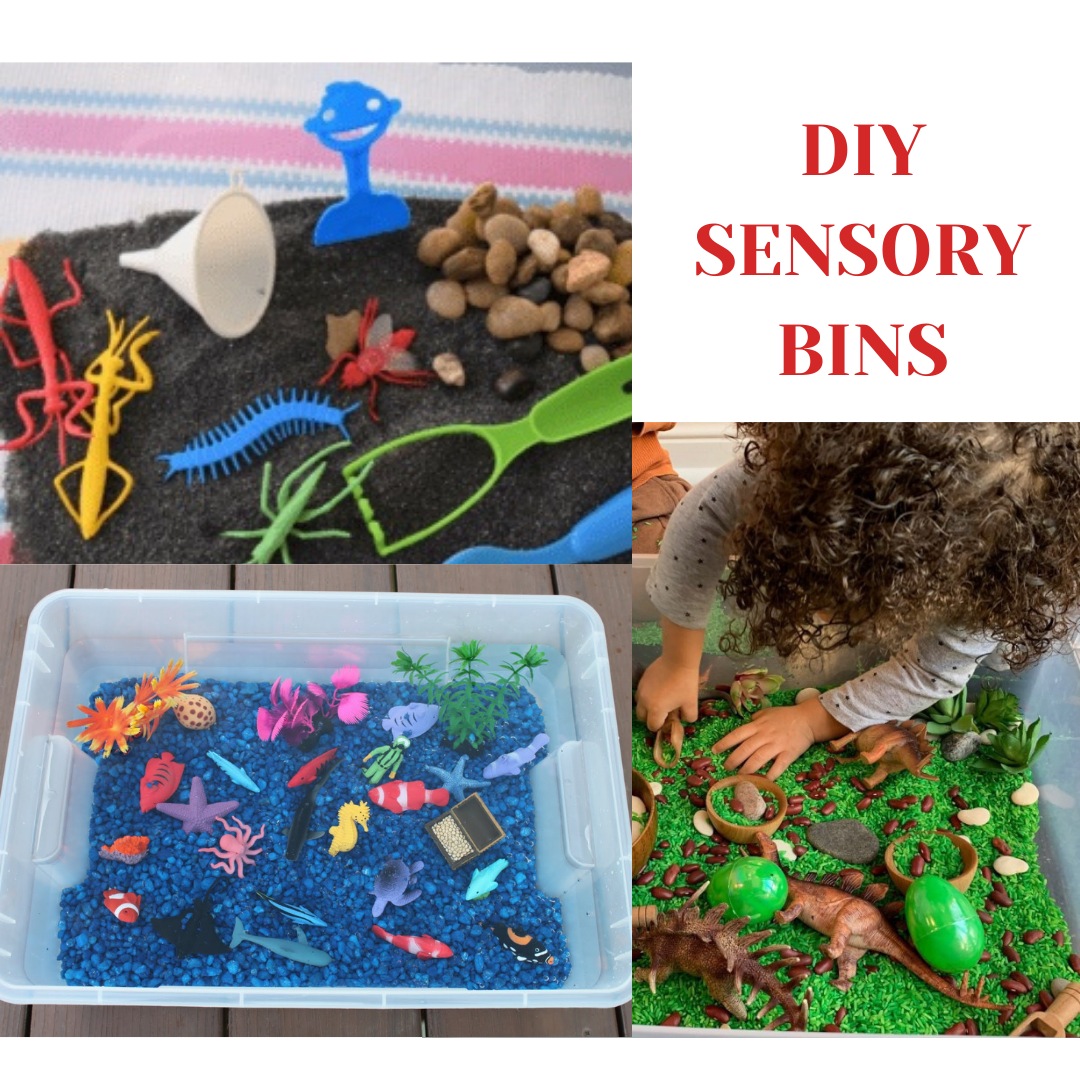 DIY Sensory Bins – How to Make your Own Sensory Bin
Sensory bins are an amazing educational tool for children to learn about their world using their senses! Young children tend to gravitate toward sensory play as they tend to explore their world with their senses. The benefits of sensory play are numerous. Sensory play helps children to focus, helps them to feel calm and it develops many skills from cognitive to physical to social skills.
Recently, I saw that a local craft store was selling pre-made sensory bins for $25 but you can make your own for a lot less. At Alpha's Discovery Kids Preschool and Daycare, we make individual sensory bins for each child and change the items in the bins almost every day. Here's a step-by-step guide to making your own sensory bin.
To make your own sensory bin, you first need to know what it is! A sensory bin is a hands-on sensory experience for kids, in a contained area such as a storage container. It contains many different items that can be explored using your senses.
STEP 1: CHOOSE A CONTAINER
When choosing a container, consider your space and choose something that will fit in your space. The size of the bin will depend on the age of the child, but as a rule, try to find the biggest container that your child can manage. The child should be able to hold the bin and take it from a shelf independently. Plastic clear containers are best with a good lid that seals well. You don't have to spend a lot on the container as you can usually find them at a dollar store for a few dollars.
STEP 2: CHOOSE THE FILLER
The sensory bin filler is the item that makes the sensory fun. Please note that you can change your filler often – but we recommend at least once per week to make it interesting for your child and keep it clean. Some examples of fillers are: water, sand, rocks, water beads, shredded paper, coloured Epsom salt, play dough, fake grass, fake snow, wooden beads and natural elements (leaves, twigs, soil, seeds). You can also choose food items such as beans, dry pasta and rice but we prefer not to use food items, to minimize food waste. Keep in mind your child's age and ability when choosing a filler (including potential choking hazards) and ensure that play is always supervised by an adult.
STEP 3: ADD ITEMS
Once you have the filler, the next step is to add items that spark the child's interest. One of the best parts of sensory bins is all the filling, dumping, pouring and transferring that takes place! When adding items, you are only limited by your own imagination – or your child's if they choose their own items to add. The items you add will depend on what type of filler – for example, you will have different items if the filler is water vs. wooden beads. Here's some ideas for items: sifter, sieve, smaller containers, watering can, shovel, buckets, animals, dinosaurs, cars, dolls, spoons, small bowls, rolling pin, cookie shape cutouts, etc. You can also choose a theme for your bin to focus the learning on a specific concept – such as bugs, oceans, or rainbows.
Step 4: HAVE FUN!
The best part of making sensory bins, is getting to enjoy them with your child! We encourage you to play and explore along side your child!
For more information about our Four Pillars of Learning Curriculum, visit our curriculumcurriculum page.
For more ideas on how to engage with your child, visit our Youtube page.