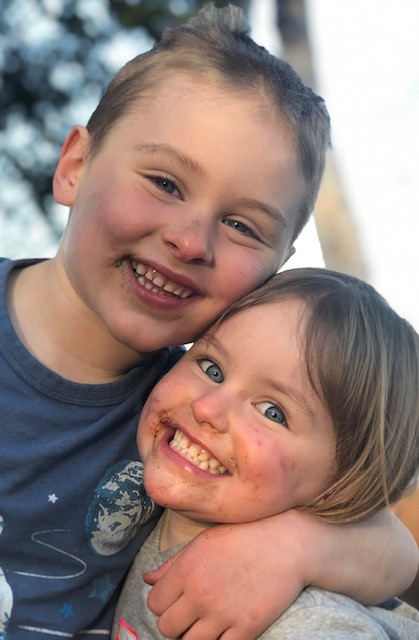 Mindful Mud – An Essential Play Experience!
While the idea of getting messy to some may be unappealing, especially a parent or caregiver that has to clean up the mess! For those that may be skeptical, consider all the benefits of playing in the dirt.
The earthy goodness of mud gives our kids an opportunity to engage in messy play, practice mindfulness and connect with nature. Think of a time when you made a sandcastle and suddenly lost track of an hour. That was you, feeling the effects of mycobacterium vacate. This is a big word for the microscopic bacteria in dirt that increases the serotonin level in our brains, making us feel happy and relaxed.
Our young technologically savvy generation of kids are just not getting enough time to play outside – especially with online learning and technological distractions. While you can simulate many experiences virtually these days, playing in the dirt is not on that list.
Have you ever noticed that children who play outside laugh more? And laughter leads to feeling good! Kids who play outside also grow in their character development: they become more adventurous, more self-motivated, and they are better able to understand and assess risk.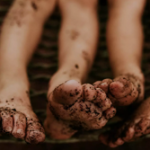 THE SCIENCE OF MUD
MUD INCREASES BRAIN ACTIVITY– When children play with mud they use all of their senses, resulting in a highly stimulated and active brain.
MUD INCREASES PHYSICAL ACTIVITY-When children play outdoors, and in mud, the incidental movement and physical activity increases, helping children maintain a healthy lifestyle and develop their physical literacy.
MUD REDUCES ALLERGIES & ASTHMA SYMPTOMS -Dirt is also great for the immune system, especially in children. Research has shown that early exposure to naturally occurring microbes in soil will help build stronger, more disease-resistant kids.
MUD PLAY BUILDS CREATIVITY – The open-ended nature of mud play is perfect for the developing brain. There is no end to the creations, ideas and games children will invent. During this type of unstructured, outdoor play, children are not only exercising but are building their ability to form ideas, problem solve, and think critically, as well as be innovative and inventive.
Here are some ideas for your children:
If you want to control the mess a bit or have limited space, try a mud kitchen !
Give your child a bucket and a shovel and set them in the dirt. See what happens.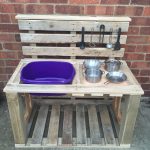 If you really want to control the mess, you can also create a DIY mud sensory bin. Check out our blog on how to create DIY sensory bins.