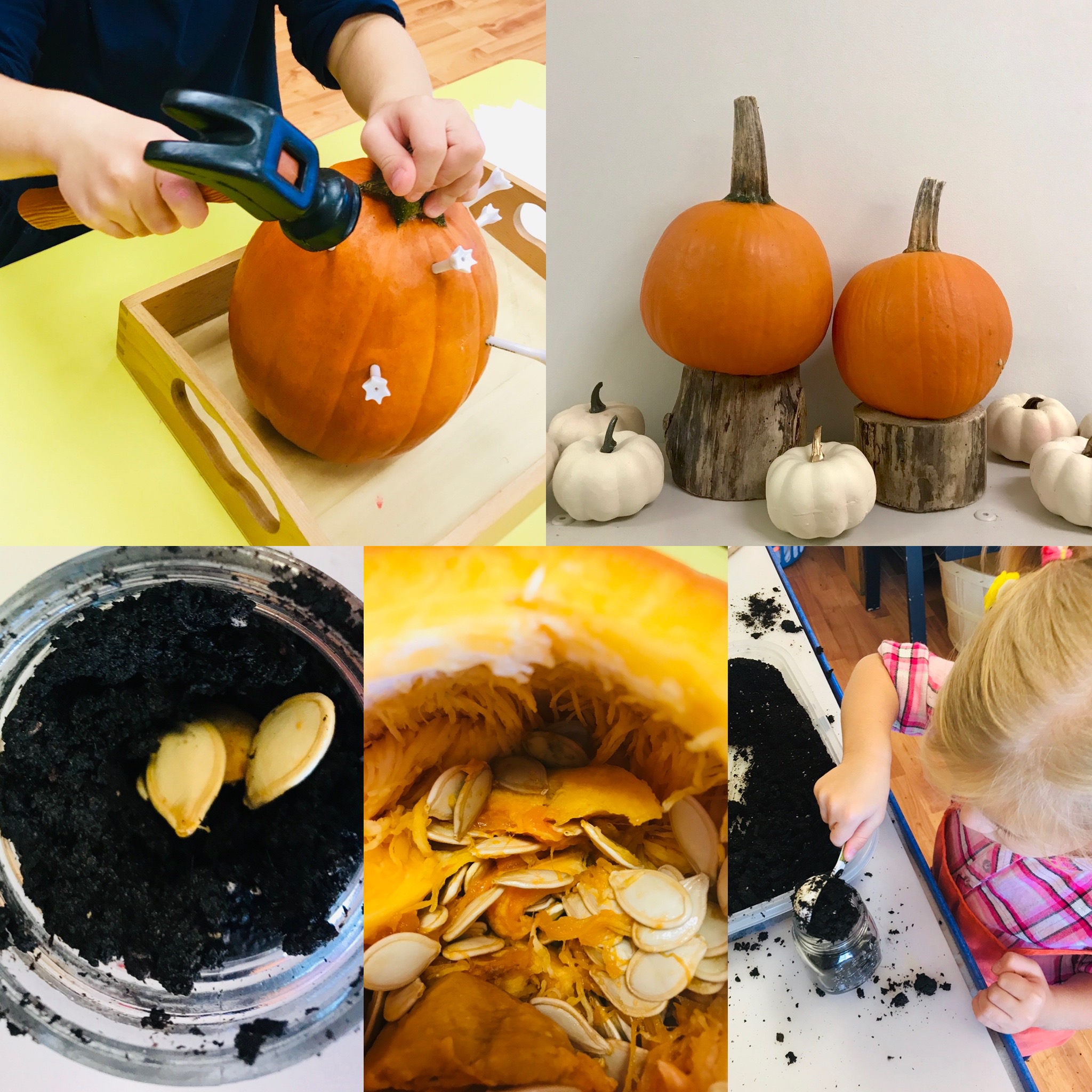 Exploring Pumpkin-theme Activities using the 4 Pillars of Learning
Fall is the perfect time to engage students in learning experiences around pumpkins. Children are naturally curious about this interesting vegetable that is harvested at this time of year. They will see pumpkins at the grocery store, at the farm or in fall decorations and it's a great opportunity to explore them with some fun activities. Let's explore pumpkin-theme activities using the Four Pillars of Learning curriculum to create an amazing learning experience for young children.
Pillar 1 – Language and Literacy
Form letters with Pumpkin Seeds: Write your child's name on a piece of paper with large printed letters to take up the whole sheet of paper. Have your child stick pumpkin seeds to each of the letters with glue. This visual activity helps the child to learn how to form the letters in a hands-on way. It also builds fine motor skills as they manipulate the pumpkin seeds to stick to the letters.
Pillar 2 – STEAM – Science
Planting Pumpkin Seeds: Cut a small pumpkin in half and have children scoop out the pumpkin seeds (using their hands or a spoon). This can get messy, so make sure you have some wipes handy when their hands are covered in pumpkin guts. Clean the seeds and have the children plant the seeds in a small jar filled with soil. Water the seeds, place in a sunny place by the window and watch what happens. You can use the leftover seeds and toast them in the oven for a tasty treat!
Pillar 2 – STEAM – Technology
It's the Great Pumpkin Charlie Brown: One of my favourite stories to read in the Fall is "It's the Great Pumpkin, Charlie Brown" which is also a 1966 American prime time animated television special based on the comic strip Peanuts by Charles M. Schulz. You can try to watch it on TV, read the book or even try to find it on Youtube. There is even an app with a game you can play based on this story.
Pillar 2 – STEAM – Engineering
Golf Tee Pumpkin Hammering: All you need for this activity is a small pumpkin, a hammer and some golf tees. The activity involves hammering the golf tees into the pumpkin. You can demonstrate how to use the hammer by doing a few and then giving the child the opportunity to try it. You can use hand-over-hand if you are worried about their ability to handle the hammer. You can also find small hammers at the dollar store for young children to use. It's best to use a real hammer instead of a toy one. This is a great activity to empower children to work with a tool that they wouldn't normally get to use.
Pillar 2 – Art
Pumpkin Stamping: Cut a mini pumpkin in half and remove the "guts" (Save the seeds for other activities). Use the half pumpkin shape as a stamp. You can dip it in paint or a stamp pad and then stamp on paper.
Pillar 2 – STEAM – Math
Pumpkin Math: There are so many ways to incorporate math with mini pumpkins. You can count them or sort them by colour or size. You can also measure different size pumpkins and compare the sizes. With the seeds, you can create 5 sheets of paper with the numbers 1-5 written on them. Have children count out seeds and place them on the paper corresponding to that number. For example, count two seeds and place them on the number 2.
Pillar 3 – Physical Activity
Pumpkin Toss: This activity reminds me of a fall fair where you would typically see a ball toss or ring toss game. Set up a basket or barrel at a short distance away. Get 4-5 mini pumpkins and make a game of tossing them in the basket.
Pillar 4 – Mindful Awareness
Pumpkin Breathing: This deep breathing activity uses a simple picture of a pumpkin, but you can use a real pumpkin, too. The small decorative gourds or pie pumpkins are perfect for this activity, because kids can hold the small pumpkin in their hands and feel the weight of the pumpkin as they complete the breathing strategy. Using a pumpkin picture or real pumpkin, show kids how to use deep breathing as a coping tool by taking calming breaths while they trace the lines of the pumpkin. Trace the lines up toward the stem while taking a deep breath in. Hold the breath for a few seconds and then trace a line down another section of the pumpkin while slowly breathing out. Hold that breath for a few seconds. Repeat this process as you slowly trace up and down the sections of the pumpkin.
These are just some of the pumpkin-theme activities we do at Alpha's Discovery Kids Preschool and Daycare using our Four Pillars of Learning curriculum. Enjoy! Stay tuned to our next blog for more fun Halloween activity ideas.