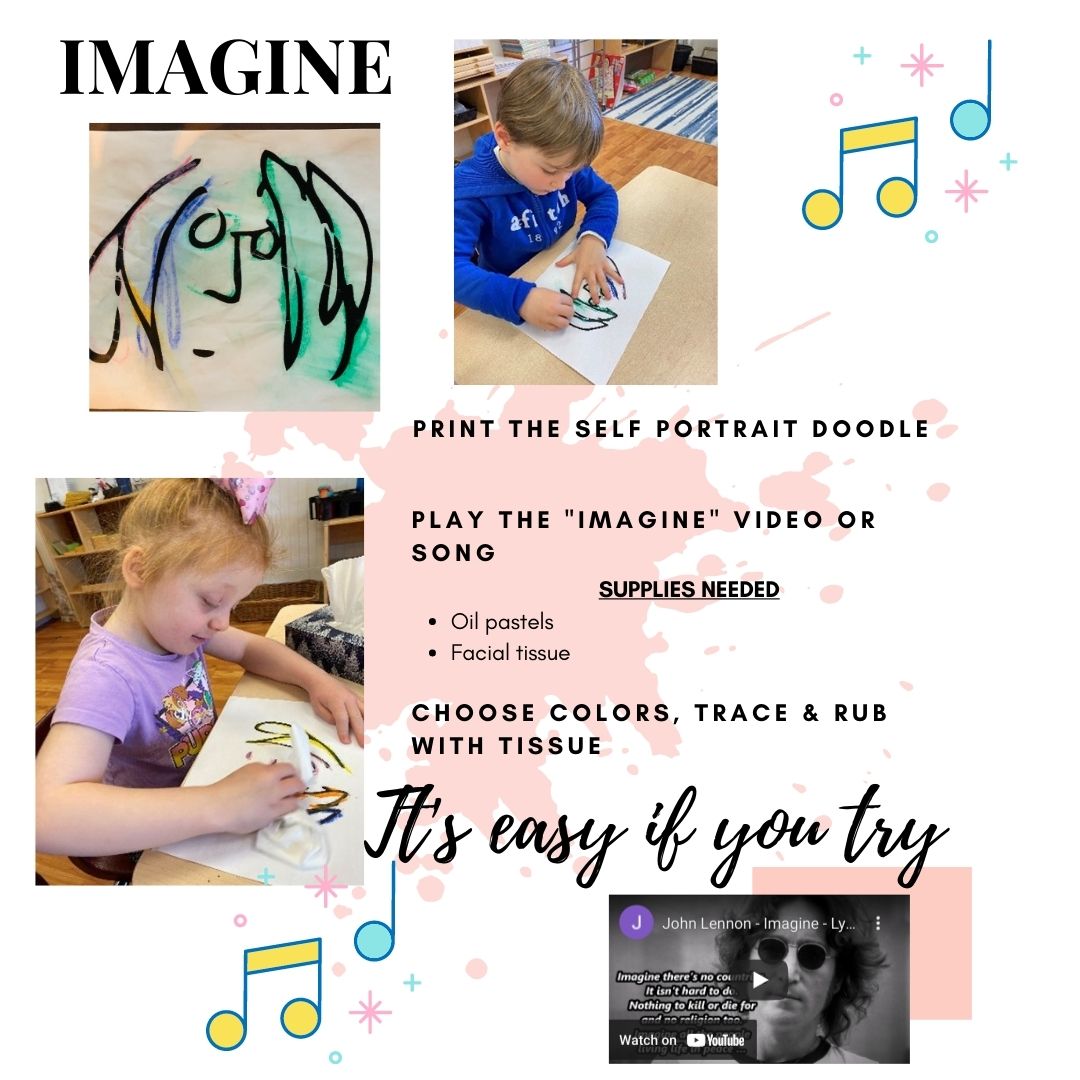 Imagination – Exercise your Creative Muscle
Imagination is so important – especially during this pandemic – given the many thing we can't do and would like to do! At Alpha's Discovery Kids Preschool and Daycare, we foster children's' natural curiosity and imagination.
Recently, we did an art/music activity which encouraged children to imagine. We played child-friendly Beatles music and of course the John Lennon song" Imagine". The children were given oil pastels to trace the outline of the iconic John Lennon scribble face. This was a free and open process but also was a great fine motor activity as the children followed the lines of the original piece. Then, they used dry tissue to rub the paper and blend the colors. The effect was so simple and so beautiful!
One of our curious students asked about the singer John Lennon. The teacher explained that he was an artist who made music and tried to help people to see the world in a beautiful way. He sang about equality, kindness, and a world where there was peace and harmony. We talked about imagining the world to be a better place. We used this as an opportunity to reframe the pandemic through our imaginations. While some of us are simply counting the days until the pandemic to be over, others have chosen to try to imagine and dream of all the things they will do when the pandemic is finally behind us. It's about using our imagination to look at the world in a positive way – even during a pandemic.
Children are used to looking at things for what they can be, instead of what they are at face value. A cardboard box can be a rocket ship, or a robot costume. We can learn a lot from how children think. As adults, when we experience criticism and feedback, we become less open to playful and creative thinking. And, in turn, we lose our creative freedom. Creativity is a skill you can learn. It is a muscle. The more you use it, the stronger it gets. This pandemic is the perfect opportunity to use that creative muscle and just imagine! It is often in times of constraints, that we become the most creative!
Try this activity with your child and have some fun!.
#1 Think of 2 things you did to survive during the Pandemic with the restrictions in place.
#2 IMAGINE what you will do when restrictions are lifted. There are no limits!
Click on our curriculum page to see more about how we foster curiosity and creativity through our Four Pillars of Learning.