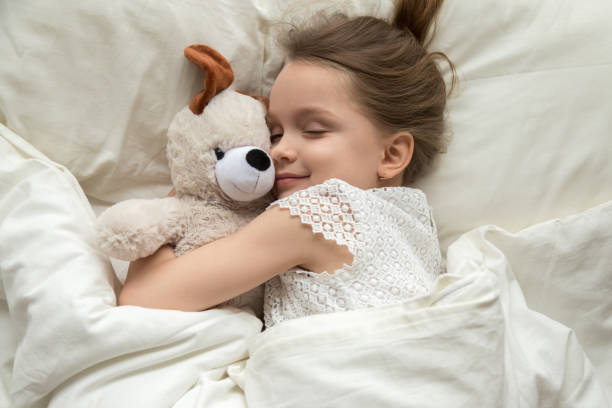 Sleep Tips for Young Children: How to get a good night's rest
Some say "never wake a sleeping baby" but what if the baby won't sleep at all? What if they sleep too much? Knowing how much sleep your child needs can be confusing because it seems everyone has an opinion on the topic and there is so much information to sift through about sleep tips.
Keep in mind that what works for some may not work for all. While some of you may be simply exhausted because your child doesn't sleep enough, other parents may be experiencing worry about children who sleep too much. Some children will naturally fall below the recommended or typical sleep amounts for their age group and can function well on less sleep. Some children may need extra sleep, but it's something to monitor because that means less awake time to learn and play. You'll want to check with your pediatrician if your child's sleep needs are excessively high or low.
If these topics are keeping you up at night and your child too, you are not alone. Sleep is a big topic among parents and it's important to remember to stick to the facts. Always use reputable sources of information online, books or consult with your doctor rather then using the advice in a mommy's group, from a friend or family member. Although the latter may be a trusted source, it's best to check on that advice with a professional to make sure it is sound.
How Much Sleep Do Children Need?
This chart is a general guide to the amount of sleep children need over a 24-hour period, including nighttime sleep and daytime naps.
| | |
| --- | --- |
| Infants (4 to 12 months old) | 12-16 hours |
| Toddlers (1 to 2 years old) | 11-14 hours |
| Children (3 to 5 years old) | 10-13 hours |
| Children (6-12 years) | 9-12 hours |
| Teenagers (13-18 years old) | 8-10 hours |
Here's some handy sleep tips that may help your child (and you) get the sleep you need:
Establish a regular sleep pattern

Establishing a regular sleep pattern is important. It will help your child understand when it is time to sleep. Also, your child will have better sleep. Bedtime shouldn't vary by more than an hour across all days of the week (even weekends) – whether your child has an early start the next morning or not. The same goes for waking time.

A consistent bedtime routine


It is good to have the same routine before bed each night. This will help prepare for sleep. Quiet activities are good, such as reading a book or having a bath or shower. In the half hour before bed, there are some things you want to avoid such as active games, playing outside, TV, internet or mobile phone games. These activities will stimulate the child and make it difficult to fall asleep.

Make sure the bedroom is comfortable


The bedroom should be quiet, comfortable, and dark. Some children like a night light. This is fine. Make sure your child sees the bedroom as a good place to be.

Bed is for sleeping, not entertainment


Devices and games will distract your child and are not good for their sleep. Keep them out of the bedroom. "Needing" to watch a screen to fall asleep is a bad habit. This can easily develop, but you don't want it to happen.

Some foods can disturb sleep


A high intake of sugary or fatty foods has been linked with more restless sleep. Avoid sugary or high fat snacks before bedtime, as well as large meals. A small healthy savoury snack, one hour before bedtime, would be fine.

Take care with daytime naps


It is normal for young children to nap during the day. As your child gets older, they will need less sleep. This means they will need to nap less. The number and length of naps depends on your child. If your child is not going to sleep at a reasonable time at night, it may be time to shorten or stop daytime napping.

Exercise and time outside


Daily exercise is an important part of healthy living. It also promotes good sleep. Time spent in bright daylight does the same. Outdoor exercise achieves both these things. It's best for young children to go outside for at least 2 hours throughout the day to get the physical activity they need. However, it is best to steer clear of vigorous activity in the hour before sleep.

Work with your doctor


If your child is sick or isn't comfortable, their sleep will suffer. Some children suffer from specific sleep problems such as frequent nightmares, snoring or sleep apnoea. It is important that these problems are dealt with. If you think ill health is involved, discuss this with your family doctor.

Specific sleep-related issues in children


The Sleep Health Foundation has a range of helpful fact sheets for children with sleep issues. These include tips on sleep issues for children with ADHD (see ADHD and Sleep in Children) or autism (see Autism in Children and Sleep), as well as more general topics such as bedwetting (see Bedwetting), childhood snoring (see Childhood Snoring and Sleep Apnea) and behavioural problems with settling to sleep (see Behavioural Sleep Problems in School Aged Children).
Sleep is important, not only for your child's well-being, but yours too! For more information about how we promote children's well being, check out our programs!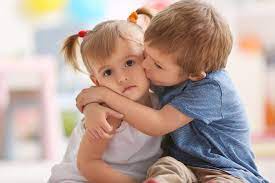 6 ways to raise your children to be giving, caring and compassionate kids
How do you teach your child to be compassionate? This may sound like a difficult task, especially when you may have a hard time even getting them to share. Here are a few ways to you can begin to instill this positive character trait.
1. RECOGNIZE AND AKNOWLEDGE GOOD ACTS
Positive reinforcement works well with kids. Encourage your child's efforts to give back or share with others. If you see your kids being generous even in the smallest way, praise them and acknowledge the gesture.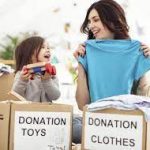 2. LEAD BY EXAMPLE
Kids are visual learners, and the best way to teach them about giving back is by modeling that behavior yourself. You have to give to teach your kids to give.
3. BEING A GIVING FAMILY
Along with setting a good example for your children, have conversations about giving. Be mater of fact about it. Use phrases like "We give to others because we can." Explain to them why you're giving time or money to a particular cause and explain why. Actions speak louder then words and there's no better way to teach kids about giving back than through action.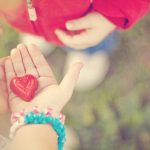 4. MINDFUL MONEY CHOICES
Teaching your children about setting aside money to give to important causes is the key to raising socially conscious kids. This is also a great well to instill self-regulation and prevent impulsiveness. Along with talking to them about money, teach your children about the value of using a portion of their money to give back to the community and donating to charity.
5. KINDNESS AND TIME ARE EQUIVILANT TO MATERIAL THINGS
Many of us are not able to donate money to charity but that doesn't mean we can not still teach and instill generosity.
Teach your children the value of giving their time and energy to others. The value of kindness and even the generosity of a smile, opening a door or helping someone pick up something they have dropped holds so much value. Teach your children not to hesitate to jump in and help someone in need.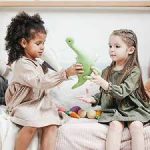 6. BE A SAFE PHILANTHROPOIST
It's always important to teach children safe perimeters with respect to giving. There are always reasonable safety concerns to consider when giving whether it be money, time, gestures, material items or food.
A few safety tips to consider sharing based on your child's age or development
The STOP, THINK, ASK policy is a good one to instill in your children of any age because as we know even kind-hearted adults can be but at risk if they are not careful. Here's some safety considerations:
• Sharing food can be dangerous because some people have allergies (ask an adult first)
• Smiling at a stranger or saying hello is safe but ask an adult before talking to or helping a stranger
• Ask an adult to help you choose a charity before giving money or valuables.
These tips will go a long way to raising compassionate kids.
For more information about how we foster compassion through our curriculum, click here.